Posted on December 16th, 2019
2019: from property crash to property boom – what's really happening?
Australian property market outlook 2020
2019 has been an interesting year for property.
At the beginning of the year, newspapers were dominated with headlines heralding the worst property market crash since the 1890s.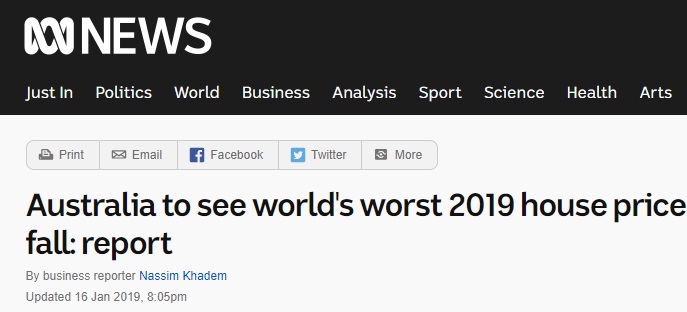 ---

---

Several months later, the dust settled following the Royal Commission into Banking, the Federal Election came and went, the 'credit-crunch' eased – and the newspaper headlines changed dramatically.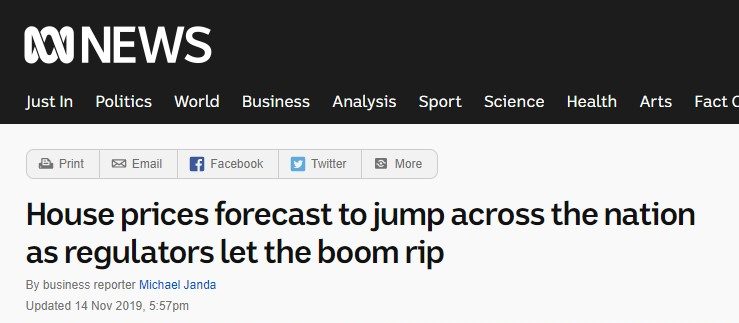 ---

---

---
After what feels like a roller-coaster of a year, we asked the Ironfish Property & Research team to provide some insights into what we can expect in the property markets in 2020 for Australia.
2020 Property Market Outlook
Sydney
The Sydney market has rebounded strongly over the back half of 2019, following what was a challenging late 2018 and early 2019. The changes to the serviceability buffer requirements from APRA and multiple interest rate drops have increased buyers' access to finance which has resulted in a rapidly strengthening market. In 2020 we expect to see this growth continue, and the first home buyer market in particular will be interesting to watch as buyers aim to take advantage of Government grants and the Federal Government's new First Home Buyer Deposit Scheme which comes into effect January 1.
Affordability though will become an issue for parts of the market again in 2020 as prices continue to rise, and buyers need to take this into consideration when considering their purchasing options, and desired growth over the medium term.
Brisbane
Brisbane continues to benefit from strengthening population growth numbers, driven largely by Sydney and Melbourne migrants looking for more 'affordable pastures'. With a significant infrastructure pipeline being rolled out through to 2025 and a continued lack of supply into the market, the fundamentals are looking increasingly positive. Vacancy is anticipated to reduce further in 2020 which will result in rental growth and strengthening yields, and as a result more investors will turn to Brisbane for the next addition to their portfolio.
Many will also be watching the South-East Queensland 2032 Olympic Bid very closely, as if this were to be secured, it would be a game-changer for the region. The winner of the 2032 Olympic Bid is expected to be announced by 2022.
Gold Coast
The Gold Coast in 2020 is expected to again be Australia's fastest growing population (of the 6 largest cities), driven predominantly by domestic migration. When combined with affordable real estate, and a sustained lack of supply paints for an interesting picture in the years to come.
The housing market, and quality boutique apartment market are expected to outperform well in 2020, and greater volumes of investors are anticipated to enter the market as interest rates remain at record lows, and the Gold Coast continues to offer the strongest rental yields of the 6 largest cities.
Melbourne
Like Sydney, Melbourne has rebounded strongly over the back half of 2019. This is expected to continue in 2020 driven by incredibly strong population growth, and a low supply of new product into the inner and middle ring suburbs. However, the urban-fringe greenfield house and land market is expected to be more subdued over the first half of the year as a temporary oversupply of land is absorbed by the market.
The inner-city vacancy rate on the other hand will be particularly interesting to watch, as supply continues to reduce dramatically. Solid rental growth is expected to occur throughout 2020.
Perth
The recent State Government introduction of a significant stamp duty concession for off the plan property is expected to attract more investors into the Perth market in 2020. This will in turn bolster the construction sector and help to strengthen the economy.
Another trend to watch in 2020 will be the continuation of savvy investors securing properties in premium suburbs which appear undervalued compared to previous years. When the market bounces back, these pockets are anticipated to perform strongly.
Adelaide
2020 is anticipated to be another steady year for the Adelaide market. With the lowest vacancy rate of the 6 largest cities, investors in this market are comforted knowing that holding costs are reliable, with minimal vacancy expected.
The Government's push to increase population growth will be a key area to watch with regards to increasing demand, as will the Federal Government's $89 billion defence spend.
Ironfish has a dedicated in-house research division that continually monitors the market to present research and analysis for our investors.
Take a look through our range of free investor resources which have helped thousands of Ironfish customers invest with confidence in cities all around Australia.
You can also download our market report via the link below.