Posted on November 25th, 2020
New CoreLogic data: Property Boom on the horizon?
Property prices trending up
For the first time in five months, property prices across the nation have moved back to growth following several months of marginal decline as a result of COVID-19. 
According to the CoreLogic October dwelling report, the value of residential properties increased 0.4% over the month of October. This ended what was an incredibly short period of decline across property markets – a remarkable feat given COVID-19 has arguably been the biggest economic shock in a century.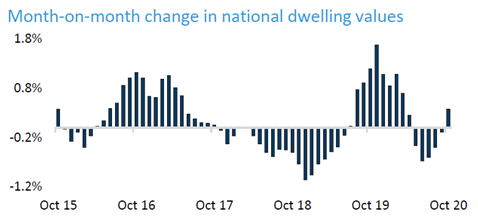 New listings nationally have also increased by a substantial 25.2% in the month of October. Impressively, despite this large spike of new property listings, the total amount of listings still remains low, only seeing a 1% increase in total stock levels. 
This means that new listings by sellers are very quickly being absorbed by the number of buyers in the market, demonstrating there is strong demand underpinned by growing consumer confidence. 
Westpac Consumer Sentiment Index
Westpac's consumer sentiment index continues to see growth as buyers across the nation become more confident in the economy and their job security. The index is now 13% above the six months prior to the economy wide shutdown in March, now reaching its highest level since November 2013. 
Westpac's  'Time to buy a Dwelling index' has also increased 8%, reaching its highest record since November 2013. On top of all that, Westpac's 'House Price Expectation Index' also increased by 12% – 5.5% above it's long term average.  These two demonstrate there is strong confidence in the markets nationally – and this is something our largest banks are now acknowledging with strong growth predictions in the coming years.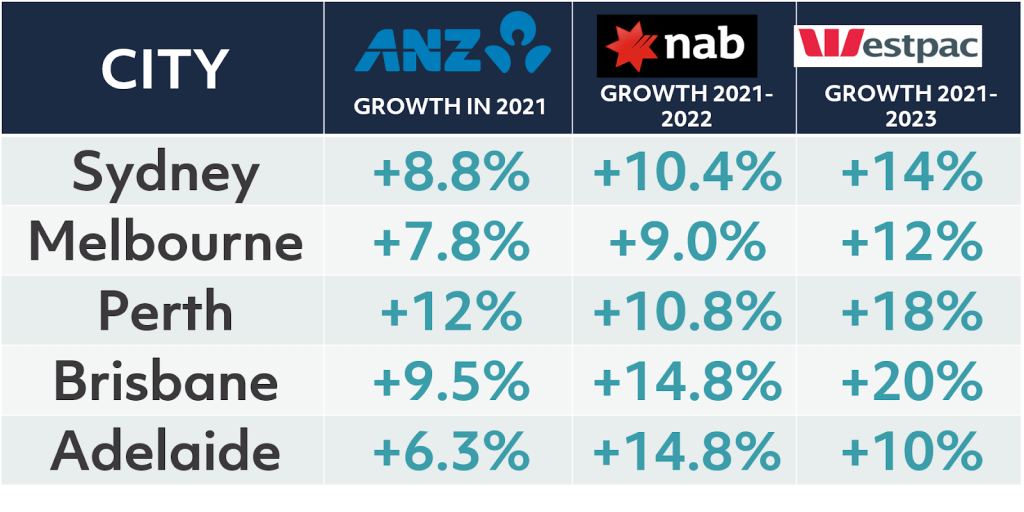 In the 3 months prior to October, Sydney and Melbourne saw a minor pull back, whilst Perth, Brisbane and Adelaide grew by 0.9-2%. The month of October saw 4 of 5 cities experience positive growth with Sydney back in positive territory. Finally, the first half of November saw positive growth in Melbourne bringing all major cities to positive growth.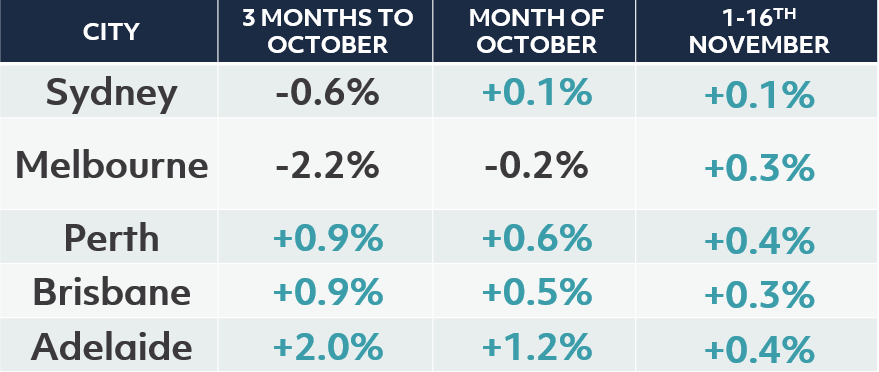 "A combination of record low interest rates, a strong jobs growth focused budget, and a nation-wide dominance of COVID-19 has led to remarkable consumer confidence levels. This has resulted in the 5 largest cities nationally recording growth across their property markets in the first half of November. This is a very promising sign the markets have turned a corner after a very short period of market correction caused by the pandemic. With interest rates set to remain low for years, the economy continuing to improve around the country, and the prospects of a COVID-19 vaccine rollout in 2021, the new year is shaping up nicely for our markets, and this too has been acknowledged by the major banks with predictions of up to 20% capital growth by 2023." – Ironfish Head of Property, William Mitchell
Looking to take advantage of the market? Why not learn more about 'Australia's biggest growth opportunity' in our recent 'Why Perth, Why Now' report.
Alternatively, if you're a first home buyer looking to take advantage of all the grants and subsidies available across the country, or an investor looking to learn more about the state of the markets, book a free consultation with one of our experienced investment strategists who will help create a suitable strategy based on your personal situation.