Posted on February 28th, 2020
E-book Launch: A guide to wealth: by Joseph Chou
For some time now, I have been wanting to put together my own personal experiences and learnings, when it comes to building wealth, into a simple and comprehensive guide that could help others accelerate towards achieving their wealth-building goals.
Today I am very excited to be able to launch my new e-book: 'Accelerate: a guide to wealth'.
Introduction:
In previous generations, building wealth was, arguably, much simpler. For the middle-class majority, born in Australia, you could expect your parents to one day pass down their wealth, if any. Life expectancy was much lower as well. In 1975 the average life expectancy for men was 69. This meant that if you retired at 60, your super or income from other assets only had to last around 10 years.
Today, we are living longer than ever before. Average life expectancy is over 80 for both men and women; a trend that is expected to continue upwards. At the same time, we have a substantial migrant population, which can not necessarily rely on parental or intergenerational wealth. We have an age pension in Australia, but it is well below what most would deem a comfortable lifestyle. Given our aging population, in the future, the pension may not even be available in its current form.
In other words, while once upon a time, wealth may have been synonymous with a luxury you can go without; something unattainable, unnecessary – 'not for me.' Today a certain amount of wealth is a basic necessity for being able to sustain your quality of life through retirement years.
But most people aren't even aware that they should or could be doing more to safeguard their financial future. Retirement feels so far away. For me too, I remember when I first moved to Australia, 60 felt like a lifetime away. Now I'm 57 – time moves quickly.
What many also forget is that wealth can bring our retirement age forward. After all, retirement is a function of finance, not age.
I believe that everyone deserves more wealth. I also believe that most people, in their heart of hearts, would probably want a bit more wealth too – even if they may not voice it out loud.
But most people simply don't know how to make it happen or don't believe they can – because they've been told for so long that it's impossible or have never learned how. Most people still think wealth belongs to rich people, not them.
The fact is, most people could have a lot more wealth than they may think and if they knew how; wealth can be learned!
Imagine if you'd been taught at a young age or at school how to save, use credit cards properly, look into your super, understand tax, invest in income-producing assets, be assured in knowing you can retire on your own terms and enjoy life to the full – how different life might be today?
Continue reading: 'Accelerate: a guide to wealth' via the download link below.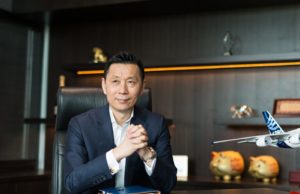 Joseph Chou is the CEO and Founder of Ironfish and author of 'From Bicycles to Bentleys'. He presents regularly around the country at a range of seminars, workshops and events. 'Accelerate: a guide to wealth' is essential wealth reading, you can download it via the link below.