Posted on October 4th, 2019
Is the West home to the best suburb to invest in Melbourne?
At Ironfish, we regularly provide property market research and insights to our customers. Our dedicated in-house property and research team are constantly monitoring the markets in Australia's 5 major cities for some of the next best opportunities for our customers. We share this research and our recommendations one-on-one with our customers through our property investment strategists, as well as here, on our blog.
Any investor, whether new or established, wants to know: where's the best place to buy an investment property? For many, Melbourne has always been at the top of the list. A consistent performer, in the past 10 years, property prices in greater Melbourne have grown on average 6.6% each year whilst vacancy rates have trended south to now sit at or below 2%. Whilst the city's softer market has made headlines over the last 12 months, the market has recently experienced a recovery, with values increasing by 1.4% in the month of August alone.
This long term upward price trend in Melbourne has been underpinned by consistent demand for housing in the Victorian capital, largely driven by the city's soaring population growth. According to the ABS, every day Melbourne adds 327 new people to its list of residents, 65% from overseas migration.
Where are the best suburbs to invest in Melbourne?
Melbourne's Western suburbs are already popular with investors for their relative affordability and easy access to the CBD, the Sunshine employment hub, schools and shops. Recent years have seen the area become more gentrified, and lifestyle drawcards like trendy cafes and restaurants contribute to the West's growing culture.
Here are some of the reasons why our property and research team believe Braybrook (in Melbourne's West) is positioned to become one of the best suburbs to buy a new investment property in Melbourne.
Looking for an investment property in Melbourne? Download our free ebook: Strategies to build a multi-property portfolio.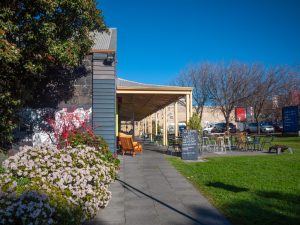 Location
Braybrook is 12km West of the Melbourne CBD, next door to the suburb of Sunshine. The Sunshine National Employment and Innovation Cluster (NEIC) is only a 5 minute drive from Braybrook, and is the 7th largest jobs hub in Melbourne. It's tipped for strong growth through to 2050, and is set to become the preferred location for healthcare services, medical research, education and training, transport, business and retail services in Melbourne's West. The Sunshine NEIC currently provides over 14,600 jobs with an estimated growth of up to 28,400 jobs by 2036. The CBD is only a 20 minute train journey from Braybrook, currently employing over 425,000 people and projected to employ over 495,000 people by 2023.
A high growth suburb in Melbourne
Braybrook sits well above the rest of Greater Melbourne for long-term price growth. Where the wider city region has seen a 6.6% compound growth rate over the past 20 years, Braybrook is substantially higher at 10.1% p.a. Driven by demand, this is likely a result of the increased popularity of the area as Melbourne residents move West for affordability and access to jobs.
Vacancy rates below 1%
A market's vacancy rate is an indicator of the state of a market, highlighting whether there is an undersupply, or oversupply of rental property. A vacancy rate of 3% indicates a market is in balance; there are just enough rental properties available to meet the market demands. Once vacancy rates trend below 3%, a landlord's market emerges, where tenants are competing for properties, and this leads to growth in rents. Greater Melbourne currently has a vacancy rate of 2%, reflecting a tight rental market – and hence many parts of Melbourne have been experiencing rental growth over recent years. Braybrook outperforms in this regard, with an incredibly tight rate of 0.8%, indicative of a strong landlord's market.
"A vacancy rate of 0.8% is almost unheard of, and reflects a real lack of rental properties in this location. As Braybrook continues to benefit from proximity to the Sunshine National Employment and Innovation Centre and train station, it is expected this figure will stay low in the years to come. This is a positive sign for landlords, with rents expected to strengthen" said Ironfish Head of Property, William Mitchell.
Culture & lifestyle
With its trendy eateries, great schools and green parklands, Braybrook has all the makings of one of Melbourne's best suburbs. Locals can grab a flat white from Braybrook STN before their 20-minute train trip from Tottenham station to the CBD. Grocery stores and retail outlets are just next door at Central West Shopping Centre. The Caroline Chisholm Catholic College will build a $5 million arts centre in the coming years. And the foodie scene is evolving with wine bars, New York-style cafes and Asian-fusion restaurants in surrounding Western suburbs starting to work their way to Braybrook.
This unique mix is what drew local and Luxsmith restaurant owner, Andy Smith, to the area.
"Like good wine, life here is full-bodied, with its own uniquely beautiful characteristics," he said.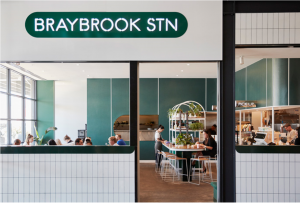 Green light for airport link
After undergoing a thorough review process, the Victorian Government have chosen the Sunshine route to be the preferred route of their planned Melbourne Airport Rail project that is set to begin construction in 2022.
Compared to the alternative route options, Sunshine station is better connected to more of the state through the Metro Tunnel, which services the south side of the CBD, and has strong connections to Ballarat and Bendigo.
In 2016-2017, Melbourne Airport handled more than 35 million passengers, and by 2038 it's expected this number will double to more than 67 million. The upgrade of Sunshine station in conjunction with the new Melbourne Airport Rail will be vital in handling the volume of travelers and to connecting regional and metro Melbourne to the airport.
Sunshine station's proximity to the national employment and innovation cluster is also critical to unlock future growth in Melbourne's West. To support the project, the Victorian and Commonwealth Governments have committed up to $5 billion each to deliver the Melbourne Airport Rail and station upgrade.
"It [Sunshine station] will, if you like, become another Southern Cross station where regional and metropolitan trains come together and can connect in to Melbourne's airport," Public Transport Minister Jacinta Allan shared with the ABC.
Sunshine station is only 1 km from Braybrook, and residents have welcomed the news it'll become the link between the airport and the West.
Ironfish have secured preferential access to new properties in Braybrook. If you'd like to learn more, enquire here and one of our team will be in touch.