Posted on February 24th, 2022
Long-term wealth: You can dream it, or you can do it
From dream to reality. How the right property investment strategies can help set you up for the future you want.
Living the dream. We've all heard the expression, and while it means different things to everyone, whenever we ask our Ironfish customers "what's your dream?", the answers we hear all have one common theme.
To be free from financial stress, and build a future where they can work less, spend more time doing the things they love and importantly, have the freedom to live life on their terms.
How you start vs when you start
Real estate investing is one of the most common ways people choose to build wealth, and the popular theory is that the sooner you start, the better your chances of achieving your dreams of long-term wealth and financial security.
But as an industry leader in providing property investment strategies throughout Australia, we know that it's not necessarily when you start investing in property, but much more importantly, how you start.
The pitfalls of going it alone
As two of our younger customers discovered, nine months of searching online, attending endless property inspections and open homes resulted in a lot of stress and sleepless nights.
While Patricia and Alex had all the enthusiasm in the world, what they lacked was the knowledge and confidence to navigate the process alone. A chance meeting with Ironfish at one of our properties completely changed the game for this eager young couple. Working with a professional partner gave them access to our real estate investment strategies and accelerated their investment journey to the point where in addition to their first property investment in Brisbane, they also have a house and land package and two properties awaiting settlement.
"Something that Ironfish does really well is provide you with unbiased information without pressuring you towards buying anything. It just means so much. We can always rely on Ironfish and that's really appreciated".

— A very happy (and much less stressed) Patricia & Alex
Bensheba was at a totally different stage in her life. As a widowed mother of two children in private school, her dream was to set up her family for life, and not have to worry about money.
Her experience with Ironfish not only helped her grow her portfolio, it also helped her children begin their own property investment journey. Armed with the confidence that comes with having access to our property investment guides, resources and support, both her children are well set up for the future, with two properties each.
"I've seen the fruits of investing in properties … the properties that I acquired through Ironfish are paying themselves off."

— Property owner and proud mother of two young property investors, Bensheba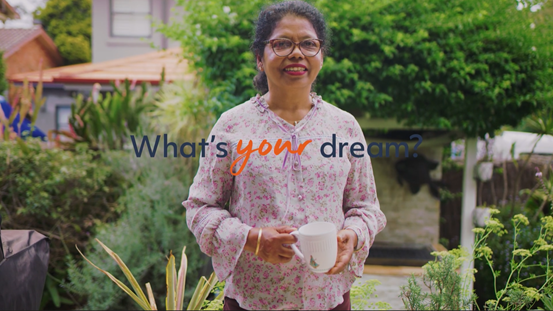 Ryan and Caroline are two Ironfish customers with a very common problem. Having spent much of their 20s and early 30s travelling the world, by the time they settled and became small business owners, they were nervous about their financial future – especially with a young family and very little superannuation. When they turned to Ironfish for guidance in property investment strategies, they believed it would be at least two years before they would be in a position to start their journey into real estate investing. But with support from Ironfish, they were pleasantly surprised to find themselves buying into the market almost immediately.
"With our property portfolio working for us, the goal is to work less, spend more time with the family, spend more time in the ocean and enjoy life."

— Small business owners and earlier than expected property investors, Ryan & Caroline
You can dream it. We can do it.
Getting on the property ladder is not as clear cut as it looks, especially if you're thinking of going it alone. Having expert knowledge and insight into exactly how to utilise effective property investment strategies can make all the difference in how well your property portfolio works for you in achieving your dream.
Ironfish is celebrating 15 years' working with people just like you make their dreams a reality, helping them invest with confidence and offering long-term customer support.
Why wait to start your dream life? Book a free consultation and start living the dream.