Posted on May 8th, 2020
Property values in Covid-19: what happens if my neighbour sells under distress?
Whilst the number of new Covid-19 cases in Australia are in steady decline, showing positive signs towards recovery, the final impact to the global economy of the pandemic is still unknown.
Many investors may be concerned as to how this may impact the local property markets and more specifically, how the value of their own assets may be impacted by potential distressed sales during this period.
Pre Covid-19: property markets buoyant and robust
This is a valid question, but before looking at individual property values, it's important to understand the underlying fundamentals of the market.
According to CoreLogic, in April 2020, even as the pandemic impacts were in full swing in Australia, the national markets still recorded an increase in property values – of 0.3%
Further, all of Australia's capital cities have seen strong year-on-year price growth with Sydney at 14.3%, Melbourne at 12.4%, Brisbane at 3.8%, and Adelaide, Perth, ACT and Darwin all recording strong signs of recovery.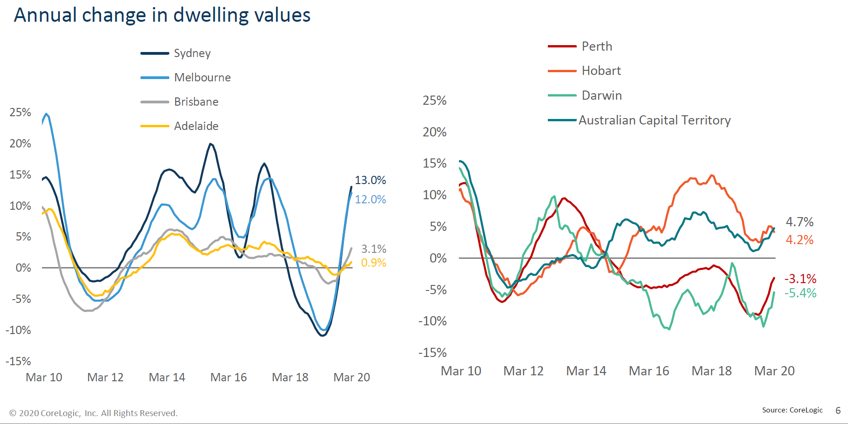 Although the market has not experienced any noticeable reduction in values, some speculate that prices will fall over the short term.
So, to return to the question – if a neighbouring property is sold during this period at a discount, would my property value fall too?
Firstly – whilst the term property value is often thrown about – first we must understand what the term really means.
The official definition according to the International Valuation Standards Council is:
"The estimated amount for which an asset should exchange on the date of valuation between a willing buyer and a willing seller in an arm's length transaction, after proper marketing, wherein the parties had each acted knowledgeably, prudently and without compulsion."
There are three important elements here that determine value: proper marketing, a willing buyer and a willing seller.
First of all, proper marketing is non-existent in the real estate market during a time when property inspections are restricted or cancelled – especially in the second-hand property market, where nothing is more important than physically walking through the property.
The second question is how many willing buyers do we have now?
As shown in the chart, following the cancellations of public auctions, in the last week of March, the auction clearance rate appeared the lowest in five years; with a clearance rate of only 37.3%.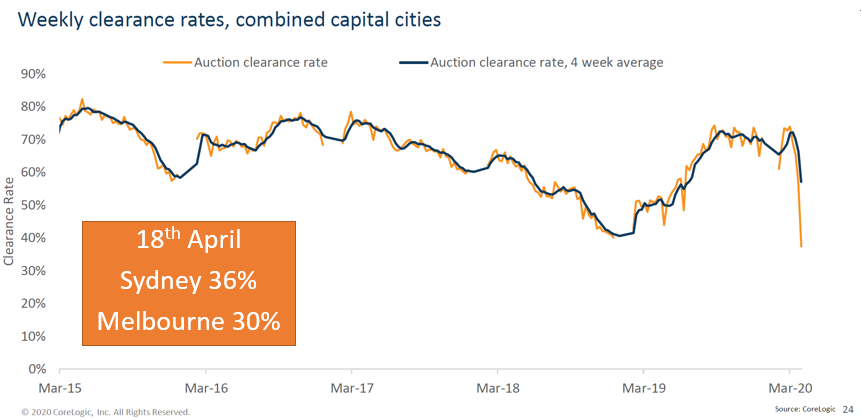 The extremely low clearance rate shows that with restricted inspections and uncertainty around the pandemic, buyers are lacking confidence in the market short-term and are therefore taking a wait-and-see approach. In other words, there are few willing buyers currently in the market.
Finally, how many willing sellers do we have?
In March 2020, a staggering 50.2% of auctions were withdrawn by sellers. Those who remember back to the 2019 pre-election period, we also saw what appeared to be a strong drop in auctions. But even then the portion of auctions withdrawn were only around the 20% mark – now it's over 50%.
Even more indicative is the number of listings for sale. The number of sale listings naturally decrease in the summer months due to the Christmas and holiday period. Outside of the holiday quiet-period, in March 2020, we have seen the biggest drop in sale listings in five years.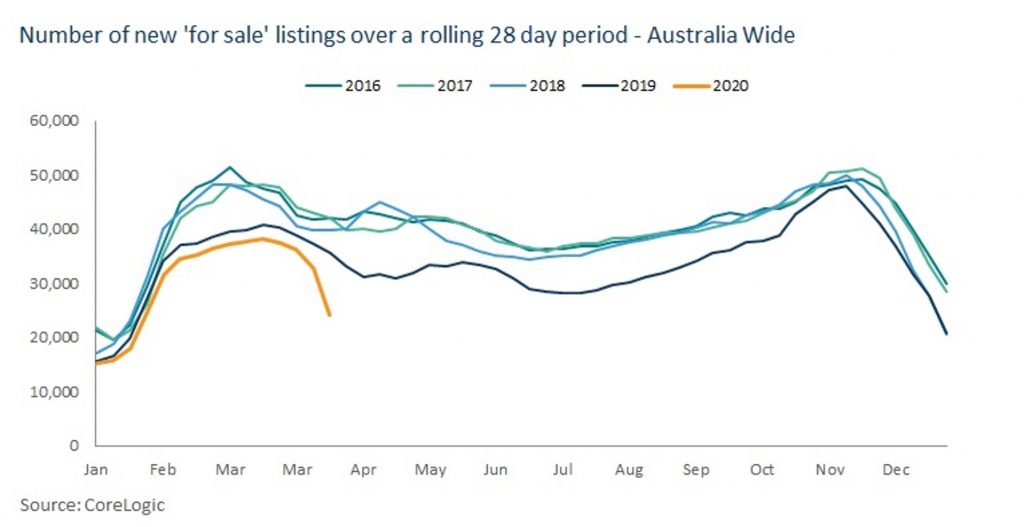 This data shows that the vast majority of sellers are not in a position where they 'must sell' at any price – i.e. a distressed sale. Many are removing their listings and holding till a period of market recovery and willing buyers return and buyer competition resumes.
Over the coming months, unfortunately some buyers will be in a position whereby they have to sell. They may be impacted by Covid-19, or there may be other reasons, i.e. divorce – or some savvy upsizers will be looking to secure a large family home at a discount, and whilst they may accept a lower price for the smaller property they are currently living in, the saving on a family house is likely to exceed this, hence making it a good time for upsizers to make the move.
For those who absolutely have to sell, the price they achieve in the market is not necessarily reflective of the asset's true value – as there is a lack of willing buyers, and they are unable to properly market the property as well. Therefore – if your neighbour sells for a price that is less than you anticipated, this is likely not reflective of the true value of the asset. It is only when we see willing buyers back in the market, along with the ability to properly market an asset that we will be able to determine the true value of that property. Already some states are relaxing real estate inspection restrictions, and over the coming months it is expected that willing buyers will re-enter the market as they have increased confidence around job security, and as life begins to return to normal with the easing of "social distancing" guidelines.
This concept of value versus price is well summarised in the words of famed investor Warren Buffett, "Price is what you pay, value is what you get."
"Property investors around the country need to keep this front of mind, and should not panic if their neighbour sells at a price that is lower than anticipated," said Ironfish Head of Property William Mitchell. "It reflects a short-term window in the market whereby there is a lack of willing buyers. This window will close, and then the true value of an asset will become clear.

"To date the markets have been incredibly resilient, however should prices slip over the coming months investors need to remain calm, and acknowledge that these are unusual times. This is reminiscent of the market softening in early 2019 which was driven by the May Federal Election which caused the majority of 'willing buyers' to sit on the sidelines until the election was done, and buyers had certainty around our political landscape. Currently, buyers are sitting on the sidelines, and will do so until they have certainty around the economy, but most importantly – their individual job security. Once this confidence returns, buyers will be back in the market and we should witness more normal market conditions."
Ironfish Research is providing regular updates for investors during Covid-19 – subscribe to stay up to date.