Posted on September 6th, 2019
Where's the Perth property market heading for 2020?
At Ironfish, one of our key property investment services is providing research-driven property recommendations to our customers in Australia's five major capital cities.
Our dedicated in-house property and research team monitors the market in each city to identify great locations and outstanding developments within those locations to recommend to our customers, and we have developed a reputation for producing astute market research that filters the noise to provide actionable investor insights.
Last week, Ironfish Head of Property, Will Mitchell, presented at the '2020 Perth Property Market Insights' seminar held at the ANZ offices in Perth.
ANZ provided insights into credit and lending trends, while Mr Mitchell discussed the state of the Perth market and outlook for 2020 and beyond.
What should investors know about the Perth property market?
While it's no secret that the Perth market has been flat for some time, dig a little deeper and there are many signs which point to an improving market.
Affordability & high yields
With Sydney and Melbourne property increasingly unaffordable for many, investors who do not look beyond these markets are potentially limiting their own potential.
"Affordability of property is a national issue," says Mr Mitchell. "In Sydney, property prices are over 8 times higher than the median income. It's not realistic for the average investor to have a portfolio with multiple Sydney properties."
Of all of Australia's major capital cities, Perth is the most affordable at only 5.2 times the median income, and median house value sitting at nearly half the cost of Sydney at $492,699.

Perth property also out-competes Sydney on rental yields, by 1% for apartments, and 0.7% for houses. This sounds like a small difference, but if you bought an apartment in Sydney for $500,000 and one in Perth for the same price, with the average Sydney rental yield of 3.7%, that's $18,500 a year in rental income. With Perth's rental yield of 4.7%, that's $23,500 a year in rental income – about $96 a week more than Sydney.
This makes Perth a market with potential; it means property owners can afford to pay more for property. The key question is – what is going to be the catalyst of growth for the Perth property market?
Declining vacancy rate
Adding to Perth's appeal to investors is the declining trend in Perth's vacancy rate. The Perth vacancy rate peaked 3 years ago at 5.5% in December 2016, and has been trending downward since. From early 2019 the vacancy rate has been hovering around 3%.
"This is a key indicator for the Perth market, and illustrates that the rental market is now in balance. With forward supply projections remaining low, and population growth starting to improve, it is anticipated the vacancy rate will reduce further over time" said Mr Mitchell. "It's reached a point in its cycle where vacancy and rents are stabilising, which gives investors confidence in their ability to service an investment in this city. This is a key ingredient for investors to return to this market."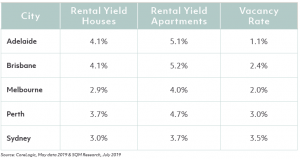 Perth's economy gaining momentum
Economic strength is key to any major capital city property market across the globe, and Western Australia is starting to show green shoots follow the end of the mining boom.
In the 2017-18 fiscal year, Western Australia's total economic output grew by 1.9%, showing a good recovery, according to Deloitte. The Western Australian Ministry of Finance expects that the state's total economic output will increase by 3.5% in the 2019-20 fiscal year, and will remain stable at 3% by 2023, helped by the resurgence in mining in the state.
"Economic performance will be a key driver of positive growth in the Perth market – it brings employment, and population" Mr Mitchell shared with the audience at ANZ.
WA Diversifying employment
In July 2019, the Western Australian Government launched its latest economic development framework – "Diversify WA". Although the mining of lithium (a key component to hybrid and electric cars) is expected to create thousands of jobs in WA over coming years, the WA Government's plan to diversify employment will reduce their dependency on mining. The new initiative will aim to create 150,000 new jobs by 2024, 30,000 of which will be based in rural WA. The development plan will focus on strengthening 6 key economic sectors to support jobs growth including: energy, tourism and events, international education, technical services, technology manufacturing, and primary industries.
Population increase
A key factor that will drive growth in the Perth property market, one that isn't widely reported on is Perth's population growth. "Few acknowledge that Perth's population growth bottomed 3 years ago in 2016, and has been steadily increasing since," said Mr Mitchell.
The number of people moving to Perth from overseas has been consistently positive along with natural growth, and finally the tide has turned for net interstate migration too. Few WA residents are leaving each year, signaling a recovery in the employment market in Perth. The WA Treasury has forecast further growth of a steady 1.5-1.7% p.a. over the next 3 years.
Actionable insights for investors
Closing the seminar, Mr Mitchell shared his view on the future of the Perth property market, and how Ironfish is turning these insights into action for our investors.
"Perth is a market many investors are looking at, and are eager to understand the fundamentals of, and when the right time is to jump in. We anticipate this trend to increase as more investors seek out affordable investments, with reliable cashflow, and the potential for growth. Many parts of Perth now tick these boxes, and people are taking action – however being well informed is key to making the right choice!" said Mr Mitchell.
"Being in the right property, in the right location is key to maximising returns over Perth's next cycle."
Looking to learn more about the Perth market?  Keep to date with Ironfish's free new report: Why Perth, Why Now.