Posted on October 27th, 2019
Why are Sydneysiders buying in the Gold Coast?
It's no secret that the cost of housing in Sydney has become prohibitively high for the majority. According to CoreLogic, Sydney house prices are the highest in the country, with a home now costing roughly 8.5 times the median household income. Priced out of the market, many Sydneysiders are looking interstate for both lifestyle and job opportunities – without the high price tag attached to real estate. As a result of this trend, the Gold Coast has emerged as one of the most popular locations for Sydney property hunters.
Domain.com.au recently reported that of out-of-area inquiries made by Sydneysiders, more than 50% were looking at buying property in Queensland.
"Sydney, while Australia's largest and most global city, is losing numbers," Demographer Mark McCrindle told Domain. "The buyer data is fascinating – it's a little more aspirational. They're dreaming about their ideal new life and it's all a story of southeast Queensland."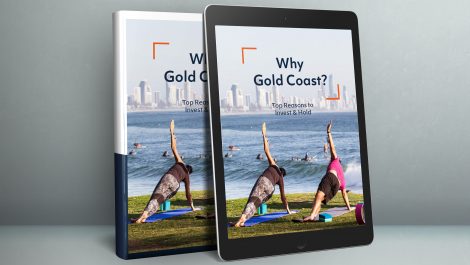 Why Gold Coast? Free Report
Top reasons to buy or hold property in the Gold Coast. Find out why the Gold Coast market is thriving in our free Gold Coast property market report.
This is consistent with ABS figures that the Gold Coast's population will hit 1 million by the mid 2030s – a growth rate significantly faster than the rest of Australia.
Whilst there's a strong rate of Sydneysiders moving to the Gold Coast, there's also a growing number of people choosing to rent in Sydney, but buy in the Gold Coast.
In data from Realestate.com.au, more than 513,000 searches in 2018 for homes inter-state were for the Gold Coast and surrounds.
REA chief economist Nerida Conisbee argues this comes from the growing trend of Sydneysiders living where they love, but buying where they can afford. "When we look at what's happening in the last few years in both Sydney and Melbourne, that extreme pricing has really pushed people into looking at alternative ways to get into the market, and rentvesting is obviously a good way to do that," she shared with news.com.au.
When we look at what's happening in the last few years in both Sydney and Melbourne, that extreme pricing has really pushed people into looking at alternative ways to get into the market, and rentvesting is obviously a good way to do that.
— Nerida Conisbee, REA Chief Economist
Look at the numbers, and it's easy to see why Sydney investors are snapping up property in the Gold Coast – compared to the NSW capital; comparable property in the former 'tourist town' is much easier to buy and hold.
Median unit prices in the Gold Coast are cheaper than Sydney, yet rental yields are stronger, helping investors hold their properties over the long term to realise capital gains. We've especially seen this over the last 12 months, where the median asking rent in Sydney has been trending downwards in certain locations, whilst the Gold Coast has remained steady for houses, and increased for apartments.

In both city's most tightly held and prized locations – on the waterfront, it becomes even more obvious why Sydney investors are buying in the Gold Coast. And whilst a lot of Sydneysiders would expect Gold Coast property to be more affordable, they often don't realise how stronger yields can impact their yearly cashflow.
Waterfront property is sought-after by many investors, knowing that with proximity to water often comes accelerated long-term capital growth.
Sydney's prestigious water suburbs typically attract higher rents, especially when they're within easy access to the city and busy cafes and restaurants – but their yields (i.e. the rental price in comparison to the purchase price) can be incredibly low, making these assets hard to hold over the long term.
For a water-view apartment in Sydney, like the example below in the prestigious suburb of Elizabeth Bay, an investor would expect to pay a purchase price of $1,840,000. It rents out for approximately $1,100 per week, translating to a rental return of 3.1%. Based on an interest rate of 3.74% p.a., an 80% loan-to-value ratio, and mortgage repayments of $6,809 a month, this investor would need to chip in an additional $24,508 per year to hold this apartment.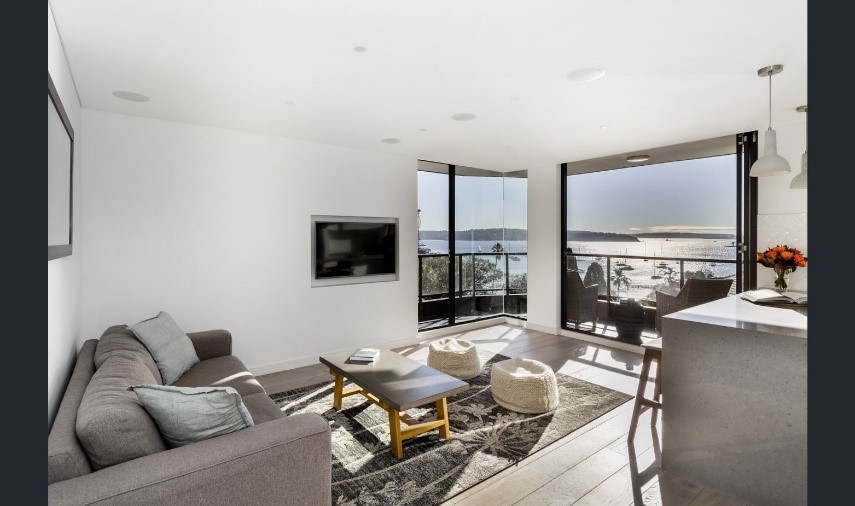 It's surprisingly high when you compare it to the cost of buying and holding a brand new apartment in the Gold Coast. Here's how our Sydney example compares to an upcoming apartment building we're recommending to our customers in the Gold Coast.
In a prized waterfront location in a prestigious area of Surfers Paradise, a 2 bedroom + media room apartment in this boutique, luxury building would set an investor back roughly $700,000 – a surprisingly affordable price considering Sydney's waterside prices. It rents out for around $690 per week, translating to a rental return of 5.1%. Based on an interest rate of 3.74% p.a., an 80% loan-to-value ratio, and mortgage repayments of $2,235 a month, this apartment would generate $9,060 a year in positive cashflow for its investor.
Of course, other factors need to be considered like strata and council rates, but as a simple example it highlights the appeal of the Gold Coast to Sydney investors.
GOLD COAST
Water front apartment

SYDNEY
Water view apartment

Surfers Paradise
Elizabeth Bay

Location

On the Nerang River

Stroll to tram stop
Stroll to beaches

Across the road from Elizabeth Bay Marina

Stroll to bus stop
Stroll to Rushcutters Bay Park

Bed, Bath, Car

2 + MPR,2,1
2,2,1

Sale Price

$699,900
$1,840,000 in 2019

Age

Completion early 2022
Circa 1971, renovated in 2000s

Estimated Rental Return

$690 / week (approx.)
$35,880 / year
$1,100 / week (approx.)

$57,200 / year

Approx

Gross Rental Yield

5.1%
3.1%

Approx mortgage repayments

(based on 80% LVR & 3.74% p.a. loan)

$2,235 / month

$26,820 / year

$6,809 / month

$81,708 / year

Approximate cashflow

$35,880 – $26,820
= $9,060 / year
$57,200 – $81,708

= – $24,508 / year
How can investors maximise their returns on the Gold Coast?
To maximise their rental returns and ability to hold their property long-term, investors should look for apartments that have been designed to cater to the lifestyle of Gold Coast locals. Newly built, boutique buildings within walking to the beach and with resident facilities like a gym and shared rooftop are a step above the typical Gold Coast stock that's mostly either 60s/70s buildings with limited lifestyle perks, or high-rises that cater to tourists.
The recently completed Peninsular residences (5-7 Peninsular Drive, Surfers Paradise) is an example of the kind of property that stands out against the rest of the local market. It's been popular amongst owner-occupiers as well as tenants for its location as well as resident's gym, yoga lawn, dining room, and rooftop with river and hinterland views along with BBQ facilities. Just before the building completed, it received over 400 rental enquiries for its 45 apartments on offer.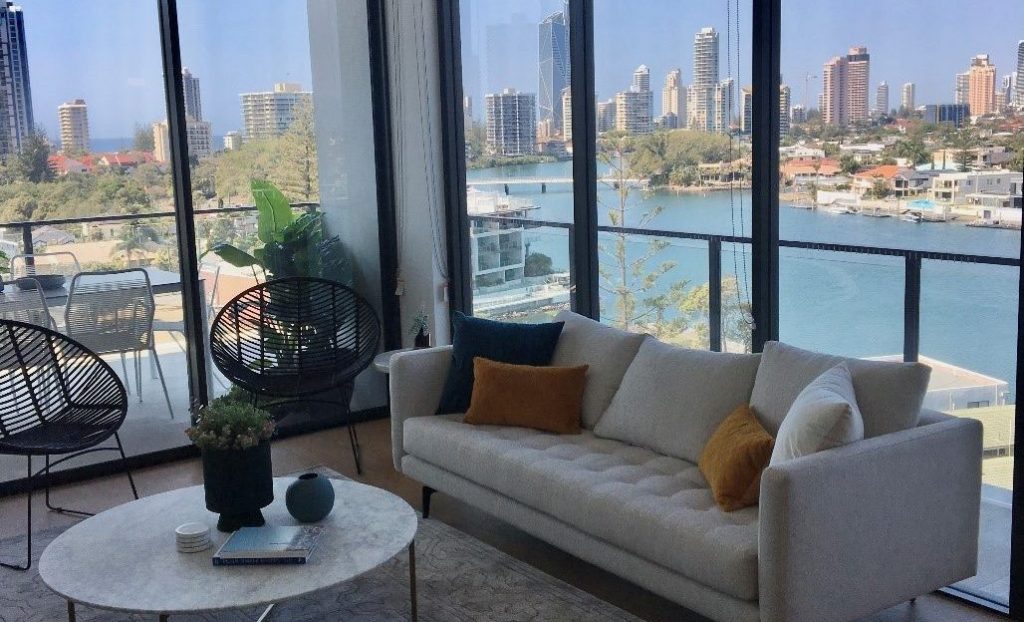 "I chose Peninsular Residences for a variety of reasons," said Peninsular resident Dan Narraway. "It's both modern and affordable, as well as in an amazing location. Living in the building has been a fantastic experience so far.

"I enjoy the large open living area, but spend most of my time appreciating the canal views from my massive balcony – which easily fits my dining table. No excuses to be lazy with a gym right upstairs, and a spa to relax in afterwards!"
Is there anything in Sydney that can compare with these types of properties and the lifestyle and value they offer?
Food for thought for Sydney-based investors!
Want to learn more about investing in the Gold Coast?
We have exclusive Gold Coast property recommendations available to our investors. Register your interest below.
July 23rd, 2019 / Property trends, Data & research
At Ironfish, one of our key property investment services is providing research-driven property recommendations to our customers in Australia's five major capital cities. Our dedicated in-house property and research team monitors the market in each city to identify great locations and outstanding dev
June 5th, 2019 / Message from our CEO, How to invest
You won't find him on any rich lists – not because he doesn't belong there, but because Tim Forrester, Aria Property Group's CEO & Founder, prefers to travel under the radar. In addition to being one of the (quietly) wealthiest individuals in Australia, Tim Forrester runs a billion-dollar proper