Posted on August 3rd, 2022
Why buying off-the-plan is 2022's golden opportunity
Find out why savvy investors are buying off the plan and how to keep in hot properties in your radar. Start building equity before building your property.
Keeping a close eye on even the smallest shift in property trends is a big part of Ironfish's success as property investors, and while we often say that people can't time the market, there are some particular timings that become obvious.
And now is the time for buying off-the-plan apartments and townhouses.
According to realestate.com.au, apartment enquiries have increased by 16.6% compared to March last year, while enquiries for houses fell 4.4% and land enquiries slipped 5.1% over the same period.*
So why the sudden demand for off-the-plan apartments, most notably in our most populated cities?
The pandemic saw a lot of changes in lifestyle behaviour, and the uncertainty of if and when lockdowns would end motivated many people to flock to regional areas in search of space and freedom.
Now life is getting back to normal in the cities, rising interest rates and housing affordability is once again becoming a barrier to those looking to buy, and with an influx of international students and migrants expected, demand for affordable housing will very soon outstrip supply.
What investors love about off-the-plan apartments
The most significant advantage of buying off-the-plan in any normal market is that you agree on the purchase price now, before the building has been completed.
However, a perfect storm of events has seen even more advantages of buying off-the-plan come to light.
The gap between house prices and apartments grew over the pandemic, which means the pricing of apartments is currently looking much more affordable than houses.
Rents are on the upswing, and as more migrants enter the market, there is a significant undersupply anticipated for the next few years as developers work to complete projects that were delayed during the lockdowns.
As property prices could increase substantially during the time it takes for the developer to build the home, you could well be looking at a scenario where by the time you move in, your property will be worth more than the purchase price.
Investors who place a deposit today on an off-the-plan apartment will likely have already made money by the time their property settles in 2-3 years.
Affordability in prime locations
New apartments offer the opportunity to buy into a premium location at a much more attractive price point than a house. More and more, you find new apartments being constructed in prized suburbs close to public transport – areas which were previously only comprised of standalone houses. In Sydney for example, a house in a North Shore suburb could set you back $2-3 million, but an apartment in the same suburb is significantly more affordable.
Apartment owners have substantially lower maintenance than house owners, with strata fees in place to manage the building and gardens.
Owner occupiers who buy off-the-plan have the freedom to choose their preferred colour scheme, floorplan, level or views to suit their lifestyle and state.
Positive cashflow and rental yields
Given that apartments often offer better rental yields than houses, you can enjoy more cashflow, which is welcome news in this tight economy.  Off-the-plan apartments also offer full tax depreciation benefits and the ability to 'buy time'. That is, you can pay your 10% deposit and have time before you settle to save the remainder of your deposit.
Save tens of thousands with government incentives
For first home buyers and owner occupiers, some states and territories offer incentives for buying off-the-plan. Concessions on stamp duty and government grants are the most common incentives offered and can add up to savings of tens-of-thousands of dollars.
You only need to look at the figures to realise just how much landlords are cashing in, with median rent for apartments fast outstripping housing rents.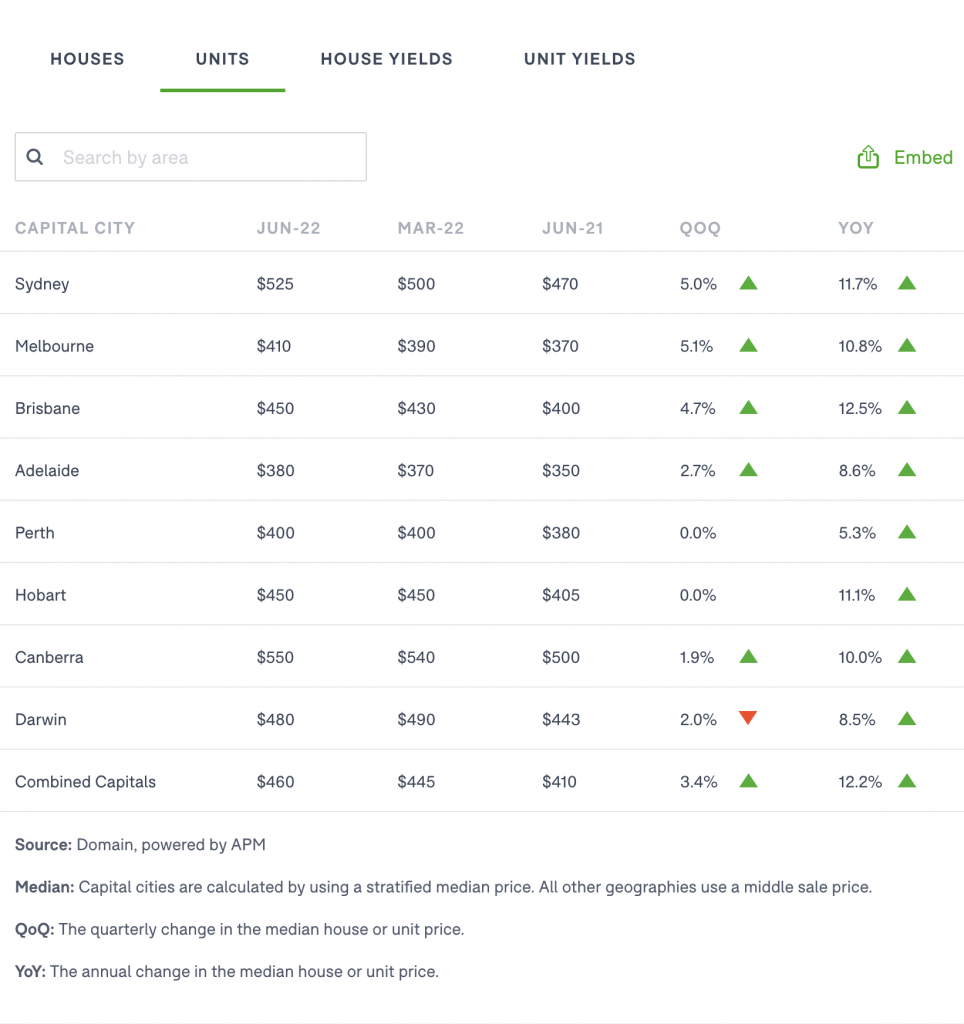 First time in 14 years that unit rents have risen at the current annual pace and have outpaced house rents in the first half of 2022. Unit rents are now higher than at the start of the pandemic.
Unit rents are rising faster than house rents over the quarter as affordability makes units an attractive option.
Inner Melbourne units are at the front of this recovery, and if rents continue to rise at the current pace, they are on track to set a new record high next quarter.
Affordability constraints of renting a house are directing demand to units. The return of international students is also helping to support elevated rental demand, particularly for centrally located units.
Lack of rental supply is a severe issue across Adelaide, with intense competition between tenants as the potential number of renters per listing soars 75% above the five-year June average.
In the longest-running streak of escalating asking rents in Canberra's history, unit rents are rising at the quickest pace since 2011. Canberra is now the most expensive capital city to rent in Australia, a title held by units for almost two years.
Tenants are operating in a severely undersupplied rental market that firmly favours landlords. Gross rental yields are at the highest point on record for Perth, making it the second-highest yielding capital city.
The importance of partnering with off-the-plan property specialists
When you purchase a property off-the-plan, you are committing to something that has not yet been built, and the quality of the developer and their ability to finance the construction is one of the biggest uncertainty most purchasers face.
Engaging a team of experts is key to overcoming this uncertainty. The right team around you can help navigate the process by knowing the signs of a reputable and trustworthy developer, and helping you understand the terms of your contract and your entitlements – as well as what is open to change.
Ironfish have helped over 10,000 Australians purchase off-the-plan properties nation-wide. We research the markets in our 6 largest cities looking for great locations, and then identify outstanding properties within those locations.
Every property we recommend undergoes a rigorous selection process, considering the developer, builder, architect, delivery, timings, price, location, contracts, owner-occupier appeal and much more.
Don't miss your opportunity to cash in on this lucrative buyer's market. Contact us today and get your property journey off to a flying start.
Your Free Ebook: A GUIDE TO BUYING OFF-THE-PLAN
To help de-mystify this subject – for potential first home buyers or investors – we have put together a comprehensive 'buyers guide' to buying off the plan, to share our expertise in this specialised area.