Posted on February 17th, 2020
Brisbane's Plan to Lead Australia's Public Transportation
Array
With Brisbane's population growing off the back of increasing interstate migration, Australia's 3rd largest city is embracing a period of rapid expansion and growth, including an ambitious new rail project – the new Brisbane Metro.
Brisbane's current bus network is critical to the city's function as an economical hub. It is the main form of transport as it can navigate Brisbane's hilly landscape with ease compared to trains which would require a lot of expensive tunnelling. However, for the morning locals traveling along South East and Northern Busways, it has become evident that the city's rapid growth will benefit from new scalable and efficient public transportation.
"Brisbane is set to experience a $15 billion infrastructure boom over the next few years as big projects finally return to Australia's 3rd largest city" –  Australian Financial Review
The new Metro, which is set to complete in 2023, comes at a time of major infrastructure development in the Brisbane pipeline including the $1.35 billion Brisbane Airport expansion, $3.6 billion Queens Wharf Casino and $5.4 billion cross-river rail.
For local commuters, the $1.54 billion Brisbane Metro promises to improve on Brisbane's existing public transport networks by developing new transport infrastructure in Brisbane's inner city. By doing so, the Brisbane City Council plans to eliminate core bottlenecks in the current busway network whilst connecting the city to future major infrastructure developments, and key hospital and University precincts.
Key Benefits for Local Commuters
The Brisbane Metro project will replace and enhance existing busway lines with high-capacity metro lines:
Metro 1 – connecting 11 stations via the South East Busway from Eight Mile Plains station via Griffith University to Roma Street station. The line is designed to connect southern suburbs to the inner city whilst providing interchanges to other TransLink services.
Metro 2 – 12 stations from RBWH station to UQ Lakes station. This line will provide key connectivity to education and health sectors by connecting the University of Queensland, Royal Brisbane & Women's Hospital, Princess Alexandra Hospital, Queensland Children's Hospital, Mater Private Hospital, Mater Hospital and the Queensland University of Technology via the Eastern and Northern busways.
Both lines will run through the CBD, South Brisbane and Southbank Cultural precinct.
When complete, Brisbane's Metro 1 and Metro 2 lines will:
Utilise long high capacity metro vehicles with multiple entry and exit points
Have services every three minutes during peak hours, five minutes during off peak times, and 10 minutes at night.
Decrease local commute times by 50%
Run services from 5am to midnight on weekdays and 24 hours on weekends.
Cater to 22,000 passengers per hour
Featuring Australia's first green and sustainable public transportation
To show off Brisbane's beauty, the full electric Metro vehicles will feature panoramic windows to allow passengers the joy of enjoying Brisbane's inner city. Each Metro vehicle will stretch 34.4 metres long and 2.55 metres wide to carry 150+ people. With zero tailpipe emissions, the Metro will be the greenest mass transport in Australia, saving 50,000 tonnes of greenhouse gas emissions over 20 years whilst being virtually silent in operation.
The HASS and Volgren developed Metro vehicles are also topped up with connective technology with free onboard Wi-Fi and mobile charging USB ports for all passengers. This dedication to connectivity is also part of Brisbane's greater plan towards connectivity with current plans to offer Wifi across  33 council libraries, as well as more than 300 hotspots in parks, malls and across the city.
The New Cultural Centre Underground Station
The new Cultural Centre station will be a major hub in the Brisbane Metro Line, bringing together a state-of-the-art underground station for Metro vehicles and busses. The Cultural Centre precinct is the city's exhibition and arts heart where galleries, museum and cultural lanes are located within the precinct. The Brisbane Convention and Exhibition centre (BCEC), Queensland Performing Arts Centre (QPAC), Gallery of Modern Art (GOMA), QLD Museum, QLD Art Gallery and Fish Lane all call the Cultural precinct home and will soon include a new underground station which will become the new interchange hub for transportation in the area.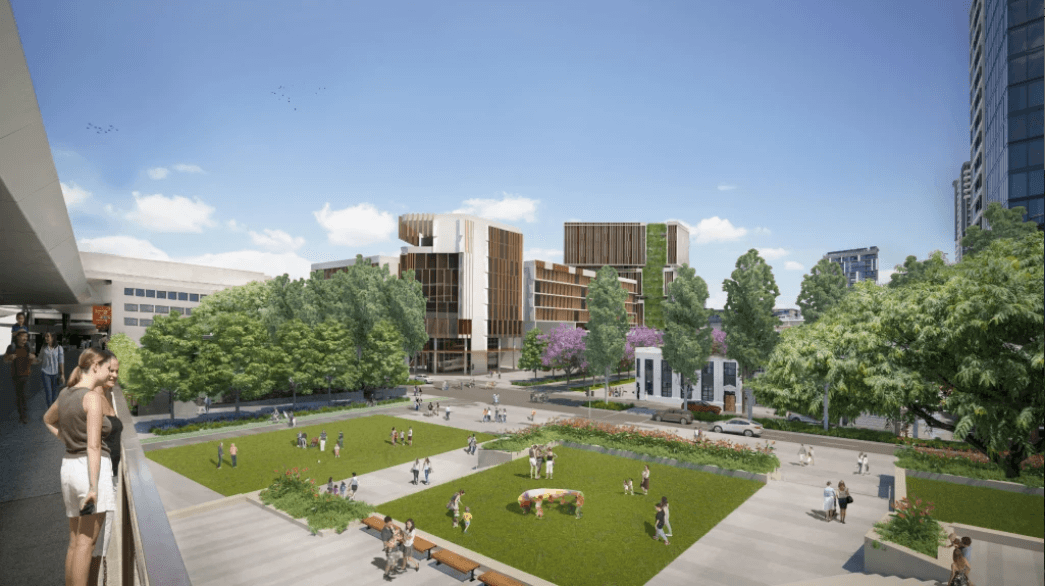 (Source: Brisbane Times)
The interchange hub will direct Metro vehicles across the Victoria bridge (into the CBD) which will also see significant change – inviting Metros, buses, pedestrians and cyclists' access to safe and efficient public transportation.
"The new Brisbane Metro will have a significant impact for inner city commuters and add real convenience and appeal to inner-city living. Being able to reach such a strong number of universities, hospitals and the CBD will make locations in close proximity to the Metro highly desirable. It will be fascinating to watch how the Metro impacts on rents and property prices around key Metro stations" said Ironfish Head of Property, Will Mitchell.