Posted on December 17th, 2019
Ferry service kicks off on the Gold Coast
Gold Coast residents will now be able get around via ferry, with the city commencing a two-year trial of a new public ferry service, called 'Hopo'.
The Gold Coast is well known for its world class beaches, but with nine times more waterways than Venice, the Gold Coast is also very much a river city.

The Hopo service is designed to allow residents and tourists to navigate around the city via its many waterways with ferry stops at popular Gold Coast destinations:
 Sea World at Main Beach
Broadwater Parklands at Southport
Marina Mirage at Main Beach
Home of the Arts (HOTA) at Surfers Paradise
Appel Park at Surfers Paradise.
Proposed Gold Coast ferry route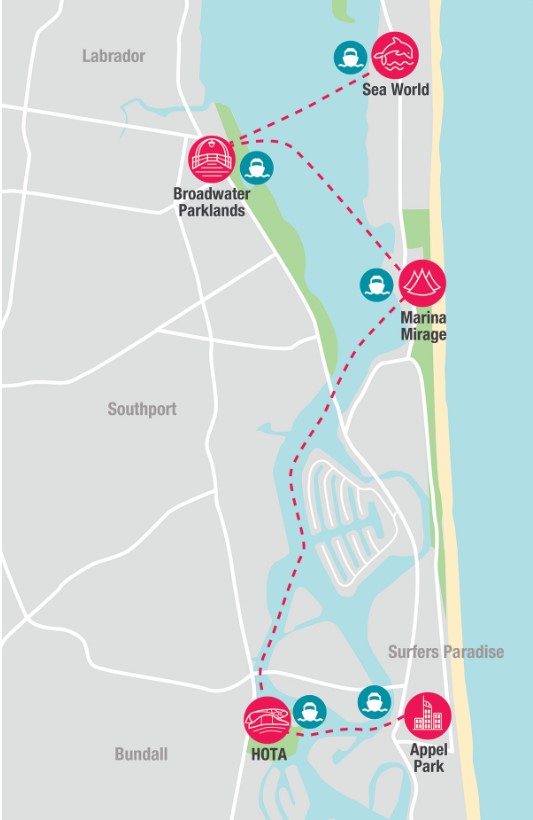 The new ferry service has been developed in partnership with the State Government, the Gold Coast Waterways Authority, Maritime Safety Queensland, Water Police, Marina Mirage and Sea World.
As part of the agreement, Gold Coast Waterways Authority is contributing $175,000 towards upgrades of the pontoons.
The service is hoped to be expanded in coming years subject to take up of the service by Gold Coast locals.
The Gold Coast is currently the fastest growing city in terms of population, attracting an increasing number of interstate and overseas migrants who are drawn to the city's lifestyle, affordability, diversifying economy and preferential visa/migration pathway.
For more information on the Gold Coast market, or information on our recommended investment properties in the Gold Coast – enquire here.