Posted on March 29th, 2020
How much would you pay to live here?
Waterfront is the pinnacle of property ownership. It signals the ultimate luxury, a desirable location that's appeal only increases with time. But this type of property usually comes at a premium – especially if it includes facilities that embody the waterfront lifestyle like a waterfront pool, yoga terrace, spa treatment rooms or private dining area.
Such a property would be out of reach for the vast majority of Australians in a city such as Sydney, but in other fast developing cities, such as the Gold Coast, it's still possible to acquire such a property if you know where to look, and you are able to get in early – before this premium market becomes out of reach.
The Gold Coast's newest location for waterfront living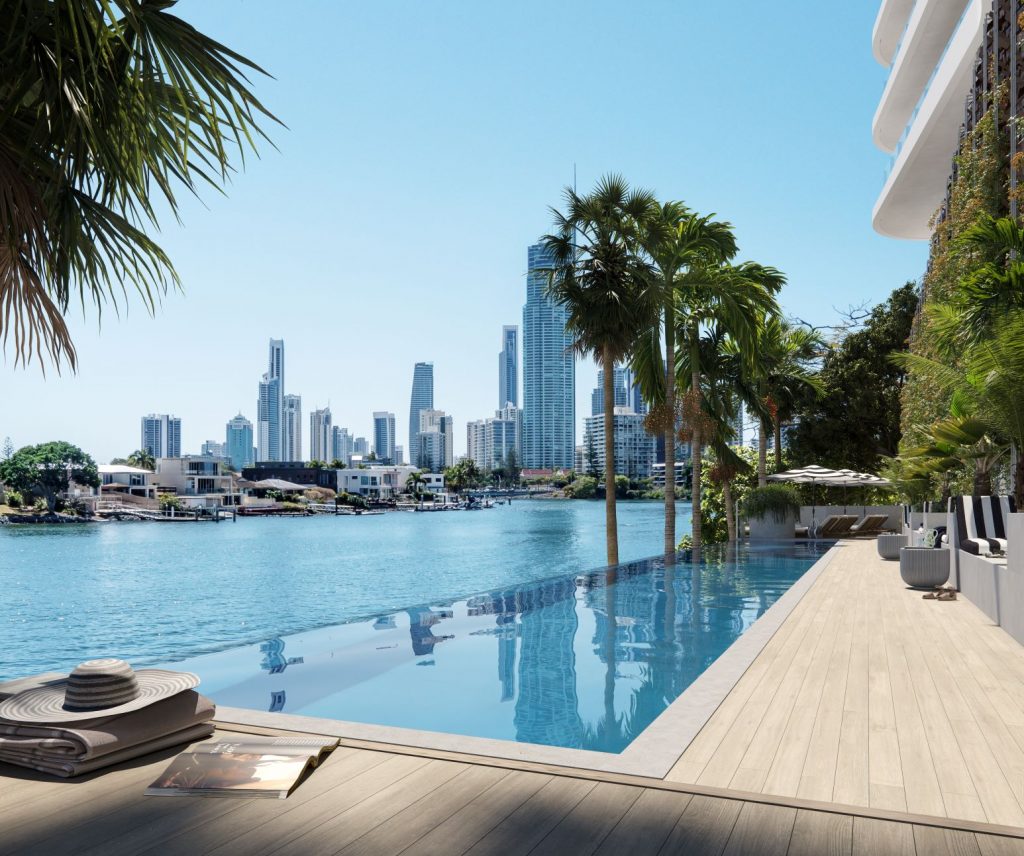 "In one of the most premium and highly coveted areas of Surfers Paradise, this is a boutique waterfront apartment building from Marquee Development Partners – and is their fourth project on the Gold Coast. They have partnered with award winning architects DBI to design a stunning timeless building, with a nod to French aesthetics given its location on "Cannes Avenue".
Designed with the needs and lifestyle of the local market in mind, it will set a new standard for apartment living in the Gold Coast. Considering this alongside the growth of the market, we're excited to be able to give Ironfish customers an exclusive preview.
Uniquely positioned on the Nerang River, this exclusive building takes up 90m of absolute water frontage, just a stones throw away from the buzz of Surfers Paradise and Broadbeach. It's set among the luxury homes of the Gold Coast's famous canals, yet a patrolled swim and surf beach is only a 6 minute stroll away.
Residents can enjoy the best Surfers Paradise has to offer, with amenities and popular hot-spots within easy reach. Via a 230m walk to Florida Gardens Station, the G:Link tram takes residents to Broadbeach shops and restaurants in just 2 minutes, or Surfers Paradise in 4 minutes. Main Beach, Griffith University and Gold Coast University Hospital are also all on the same line.

"A site with such an extensive frontage to the Nerang River at the perfect curve means that you're always looking at water," said Barry Lee, Director of Design and Architecture at DBI Architects.
From award-winning DBI architects, this building has been thoughtfully designed with the lifestyle of the long-term local in mind.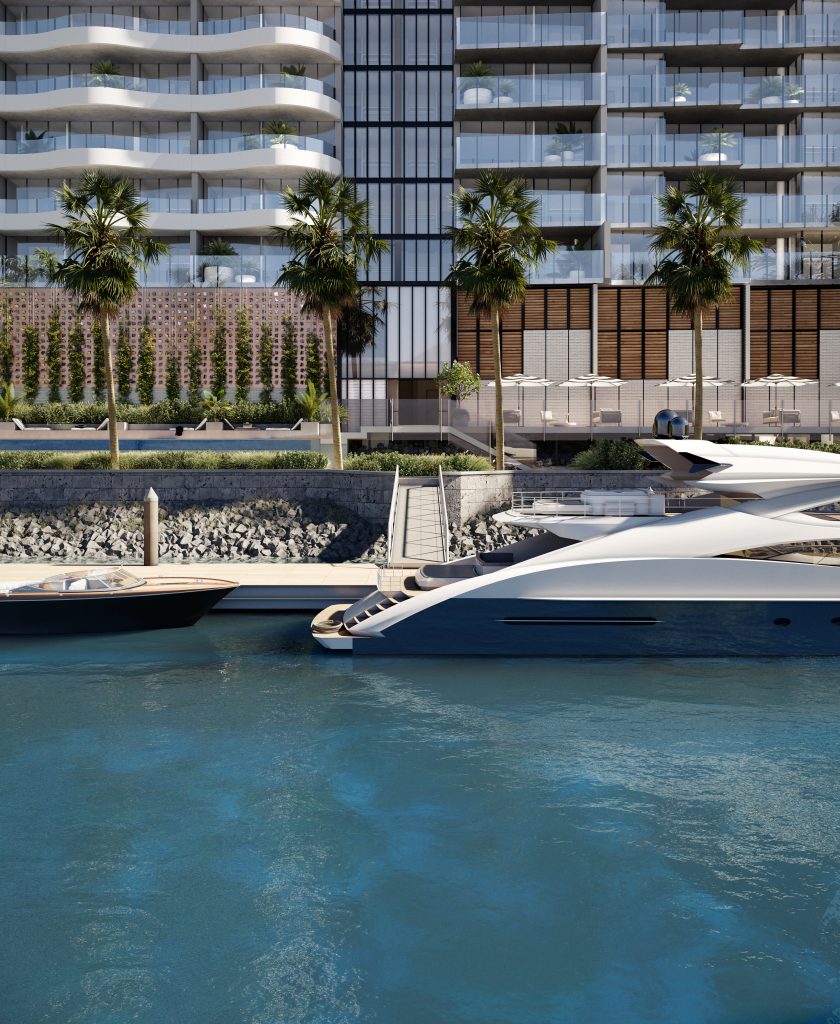 The building has two access points, either through the grand lobby, or by boat via the private pontoon. Overlooking the pontoon, the 25m lap pool takes in the river and city views. Residents can soak up the sun by the pool on the deck's sun lounges, or wander down to the waterfront bocce court for a friendly game with their neighbours.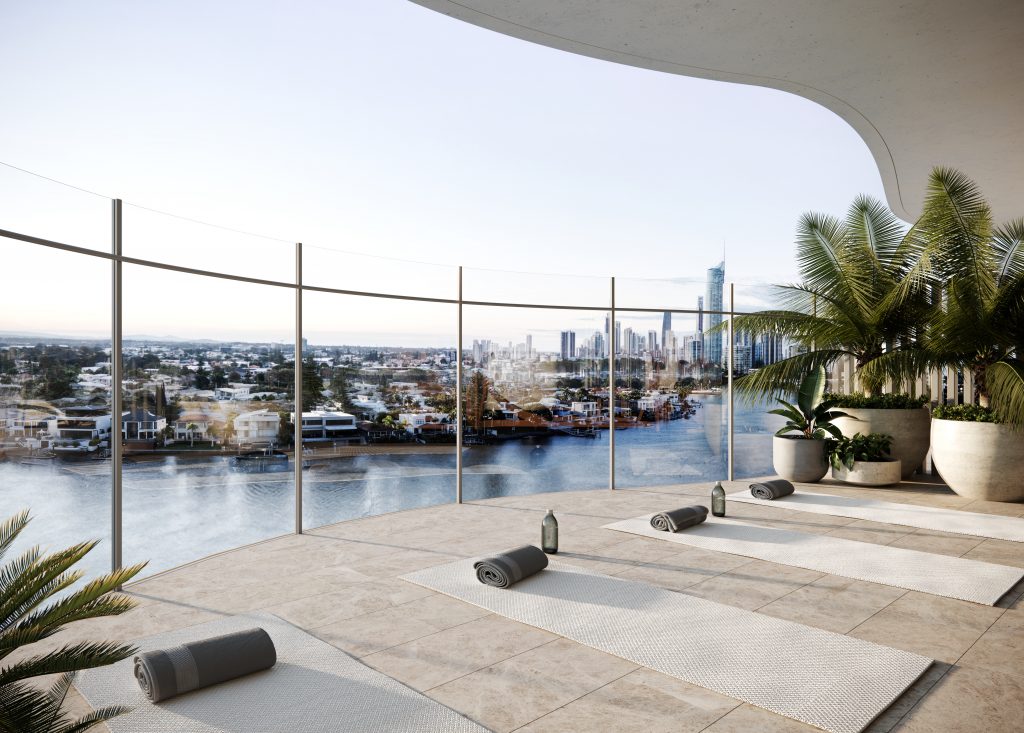 The games continue upstairs in the billiards room and library, where an open fireplace encourages people to gather and meet; to foster a community feel in the building. For those after some "me time", the zen garden, sauna, hydrotherapy shower, spa treatment room, gym and yoga terrace afford plenty of opportunities to relax.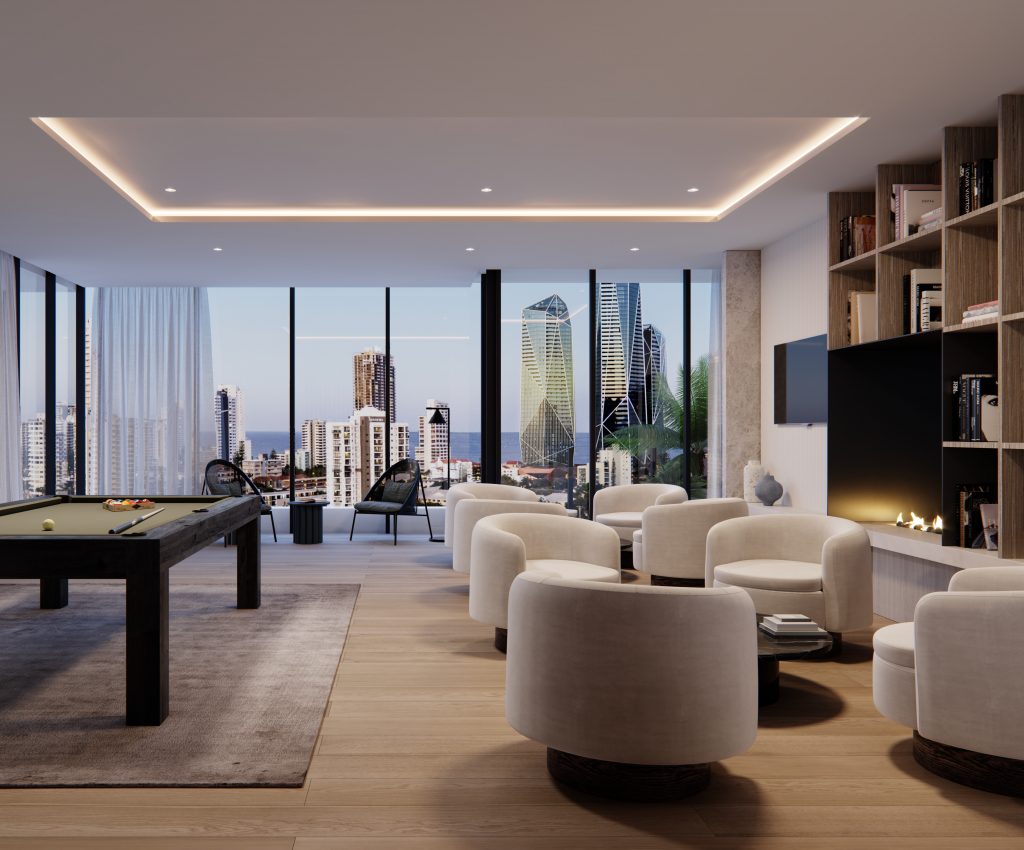 In the evening, residents can wind down further with a glass of wine on the rooftop lounge, or share a BBQ with friends and family whilst they take in the 270 degree view of the sunset.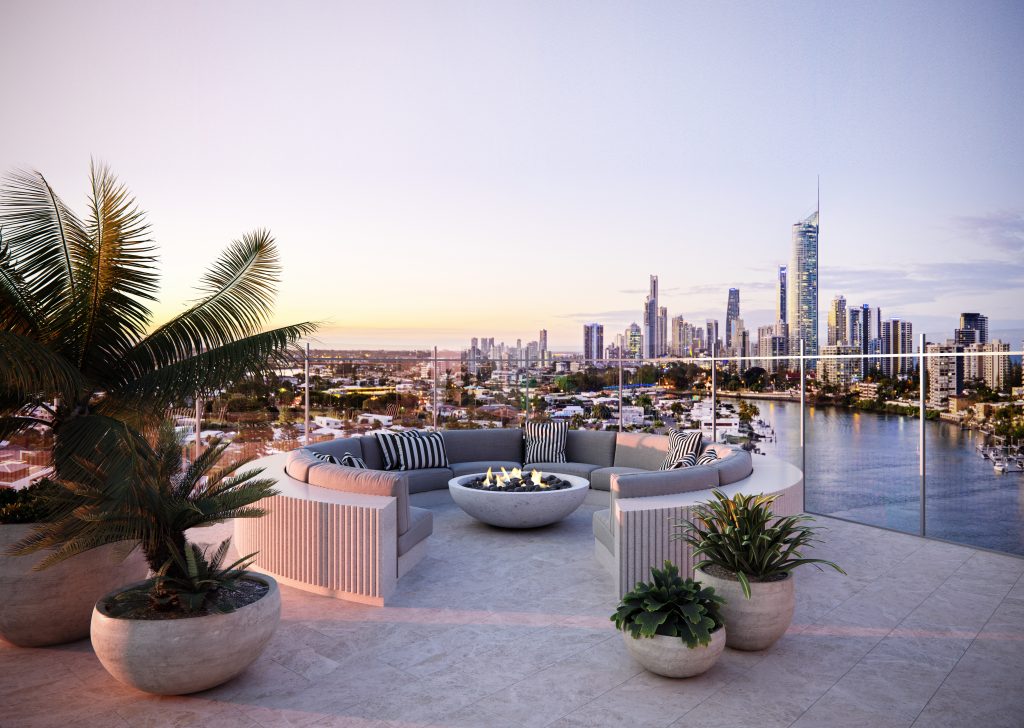 The building has been designed to give each apartment at least 10m of floor-to ceiling glass frontage to maximise natural light and take in the impressive views, whether you're looking at the ocean, waterway or skyline.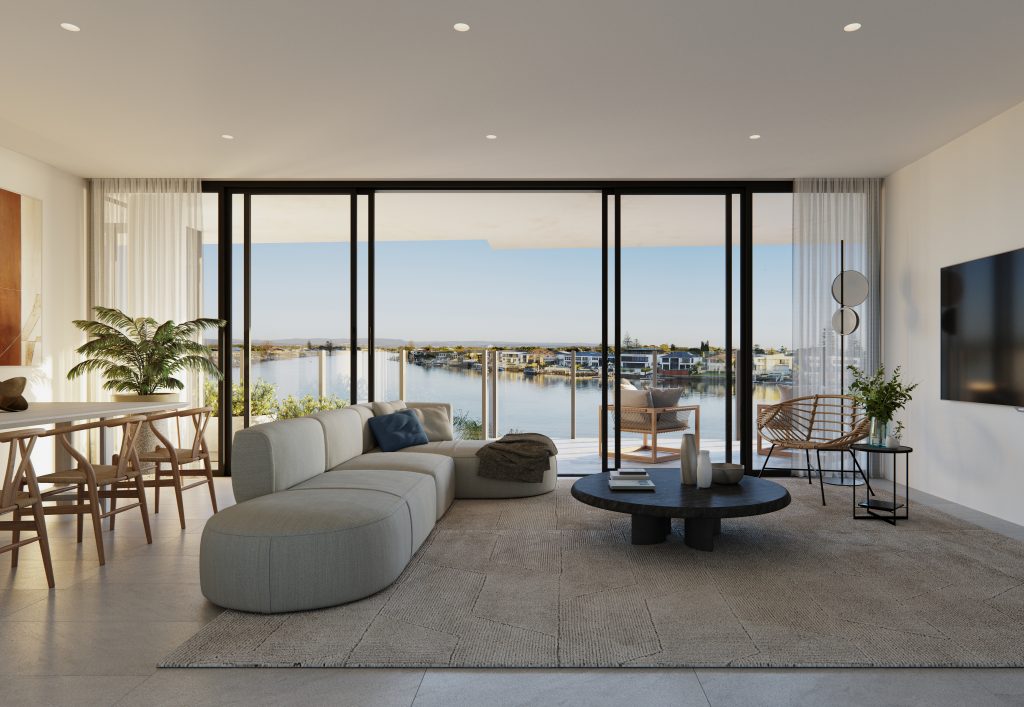 Liveability of the apartments was a pivotal part of their design; double sided chefs kitchens that flow to dining, living and outdoor areas allow residents plenty of space to entertain – or enjoy a cosy night in.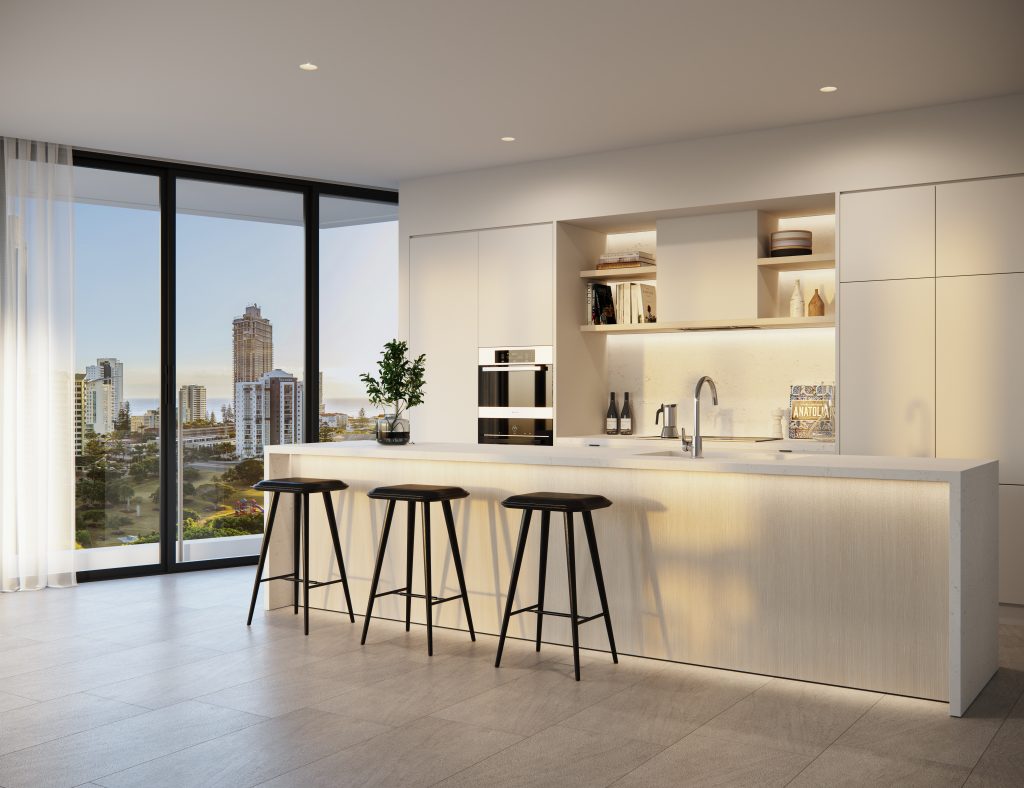 The materials palette was hand selected by leading interior designer Anna Goh to mimic the breezy feeling of the unrepeatable river locale. Rounded, natural shapes characterise the finishes and interiors.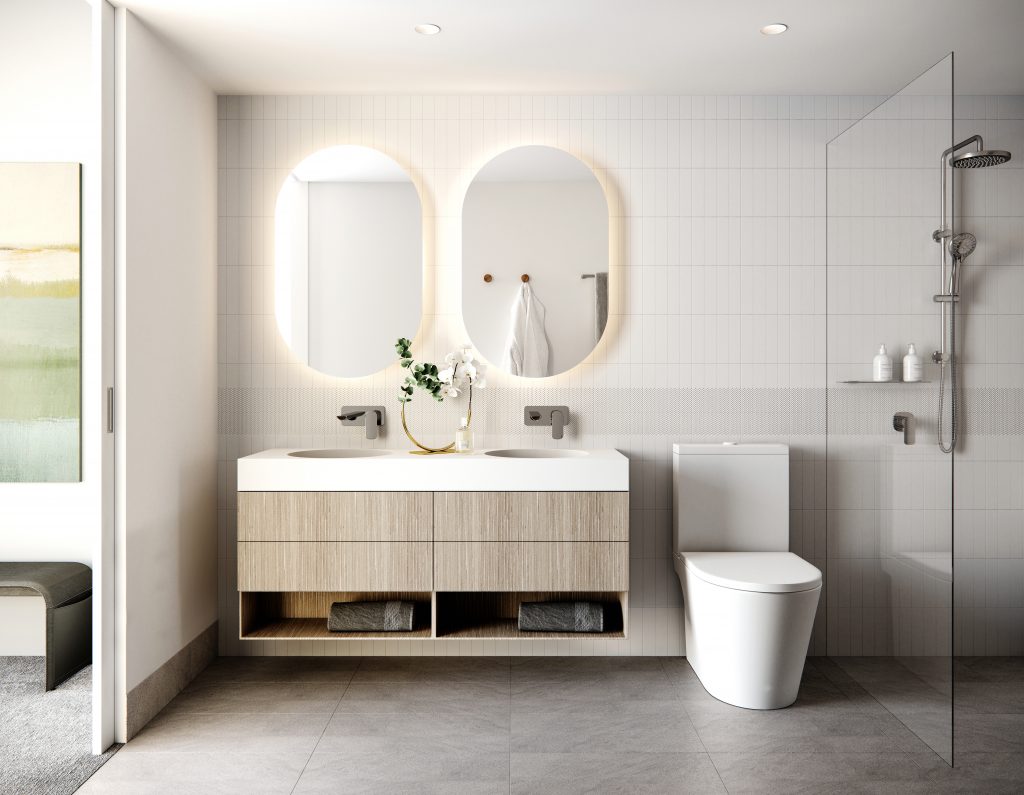 2 bedrooms start from $564,000
Ironfish has a selection of apartments in this exclusive building available to our investors, ahead of the wider public. To learn more, register your interest here and one of our team members will be in touch.
July 23rd, 2019 / Property trends, Data & research
At Ironfish, one of our key property investment services is providing research-driven property recommendations to our customers in Australia's five major capital cities. Our dedicated in-house property and research team monitors the market in each city to identify great locations and outstanding dev
June 5th, 2019 / Message from our CEO
You won't find him on any rich lists – not because he doesn't belong there, but because Tim Forrester, Aria Property Group's CEO & Founder, prefers to travel under the radar. In addition to being one of the (quietly) wealthiest individuals in Australia, Tim Forrester runs a billion-dollar proper