Posted on August 30th, 2019
What to look for when buying a townhouse: tips for investors
The way we live and where we live is changing. In Australia's capital cities, the great Aussie dream is shifting away from the 'white-picket fence' house with a big backyard, with the latest Census data showing that more Australians are choosing to live in higher density housing (such as townhouses and apartments).
Driven by affordability, lifestyle and demographic changes, it's expected that more and more Australians will choose buying a townhouse or apartment over a house in coming years.
For those looking for the lock-up and leave, low maintenance lifestyle that apartments offer, yet desire more space akin to a house, townhouses bridge the gap and are growing in popularity with single professionals, young families, and downsizers.
To assist investors who are considering the benefits of buying a townhouse vs a house or apartment, or simply want to know what are the key factors to look out for when purchasing a new townhouse, we've put together this townhouse buyers guide.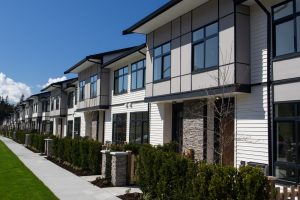 What defines a townhouse?
Townhouses or 'townhomes' are traditionally 2-3 level homes that share common walls with a neighbour. They can range in scale from infill developments of 3 townhouses, up to master-planned estates in excess of 100 townhouses.
A typical townhome configuration is 3 bedrooms, 2 bathrooms and a single garage, but their growing appeal has resulted in more designs becoming prevalent, and 2, 3 or 4 bedroom townhouses with 1-2 car spaces are now very common. Most townhouses also have their own outdoor space in the way of a garden or courtyard on title too.
Quite often townhouse estates will have common facilities exclusively for residents like BBQs, parks or swimming pools.
Why buy a townhouse?
Location
When they're in the right location, townhouses play an important part in residential housing. In a well-planned community, apartments are usually the closest to shops, transport and other amenities, houses are found further out in the quieter, private streets – and townhouses fill the gap between the two.  In middle ring suburbs (10-20km from a city centre), townhouses are often the preferred housing type for developments, as free standing new houses can be prohibitively expensive, and apartments not suitable for the local area. Stronger demand exists for those located in very close proximity to shops, transport and schools.
In outer ring suburbs, and 'greenfield' developments (20km and more from a city centre), townhouses have become increasingly common, providing a more affordable entry price compared to house and land packages. In master-planned house and land estates, they are usually adjacent to parks, schools and retail centres.
Affordability
Because of their smaller size, buying a townhouse is generally more affordable than an existing home, or a house and land package.
That said, it's important to compare like for like when looking at prices. We often see new investors try to compare the price of an existing house in a suburb to a brand new townhouse – two completely different properties. When looking at the price of a new townhouse in an established area, investors need to understand what the cost of new housing in that location is.
Often, you'll only be able to get a brand new house by buying an old home, knocking it down and rebuilding – comparing this to a newly built townhouse, it's easy to see their relative affordability. When looking at townhouses within a master-planned estate, often pricing can appear very similar to the entry level pricing of a house and land package. Investors should be wary though, as sometimes the advertised price of house and land packages do not include everything, and more money will need to be spent updating the home to get it to a 'turn-key' standard, for example landscaping, driveway and fencing.
Strong rental yields
It varies market-to-market, but a well-built townhouse in a good location usually sees stronger rental yields than houses in the same area. For investors seeking cash flow for their property portfolio, townhouses can be an appealing option when compared to a free-standing house.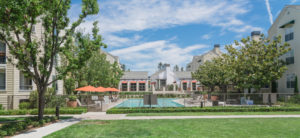 Who do townhouses appeal to?
In recent years, townhouses have soared in popularity, attracting a wide range of buyers and tenants. Young families, professional couples and downsizers all seek out the easy-care living that townhouses can offer.
According to the ABS, the proportion of family households has been declining. In the mid-80s, families made up 77% of Australia's households. In 2016, this figure dropped to roughly 70%. Over the same period, the number of single-person households increased from 19% to 24%.
With smaller family structures, there's less need for a big backyard, and greater demand for affordable, low-maintenance homes.