Posted on August 17th, 2020
Pimpama: Queensland's Secret Suburb With Over 20% Population Growth
In recent years, Queensland's prime weather, relaxed lifestyle and affordable housing has made Queensland the #1 destination for interstate immigrants across Australia.
With tens of thousands of owner-occupiers moving from Sydney and Melbourne to Queensland, Australia's sunshine state, and it's two major cities, Brisbane and the Gold Coast have seen a dramatic growth in population and infrastructure.
Our dedicated research team at Ironfish have carefully followed the Brisbane and Gold Coast markets and recently identified an intriguing suburb with an astonishing population growth rate of over 20%!
Whilst Gold Coast and Brisbane maintain an annual population growth rate of approximately 2-3%, Pimpama's population growth in 2019 reached an astronomical 20.46%. Located 29km from Gold Coast's Surfers Paradise, Pimpama currently contributes to almost a quarter of Gold Coast's total population growth and is one of Australia's fastest growing suburbs. 

So what makes Pimpama such a hot-spot for growth? And why are so many Australians looking to move there?
Prime Location: Between Two Cities
With only a one hour drive separating Brisbane and the Gold Coast, many forget how close Australia's third-largest (Brisbane) and sixth largest (Gold Coast) cities are.

Situated only a short drive from the M1 Motorway corridor, Pimpama is positioned 26 minutes from Surfers Paradise and 40 minutes from Brisbane's CBD. Being in this prime location allows Pimpama residents direct access to both cities' infrastructure, employment and cultural hubs, of which includes Queensland's new Health and Knowledge precinct. Home to over 20,000 students and 26,000 new jobs, the $5 billion Health and Knowledge precinct is only an 18-minute drive away from Pimpama. 
Future Development: Gold Coast's Infrastructure Boom
On top of being located between Brisbane and Gold Coast, Pimpama benefits directly from Queensland's era of major infrastructure development as part of the Gold Coast City Council. 
Recognising the rapid development and population growth within Pimpama, the Government has in schedule a new Pimpama railway station for residents to travel between Brisbane and the Gold Coast. The new station is expected to be operation by 2024.
However, Pimpama's popularity and population growth is not only due to the Gold Coast's larger developments. There are also large-scale plans for Pimpama as a suburb. With the new $82 million North Gold Coast Sports and Community Hub set for completion mid 2021, Pimpama will be the proud owners of these sporting amenities including a new water sports venue, community centre, tennis court, fitness centre, outdoor netball facilities, community parks and more!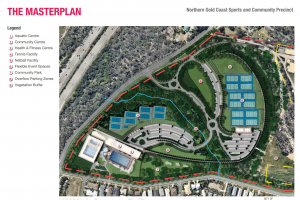 (Photo: Gold Coast City Government)
In addition, the council-backed proposed Coomera Town Centre is also only 4 kilometers away.  Home to Gold Coast's new Civic Hub development project, the hub will be the Gold Coast's first regional integrated community facility to be built on land adjoining Coomera's current Westfield. The community hub will house a new library, youth hub, auditorium, co-working spaces and a customer service centre. As the Gold Coast continues to grow, this Civic Hub will become a central area to attract and accommodate for Gold Coast's expected population growth.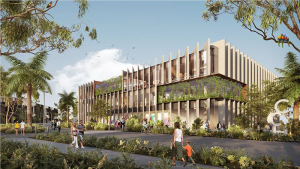 The proposed rendering of Coomera Civic Center (Photo: The Urban Developer)
Market Sentiment: Long-term Land Supply
According to QLD Government's 2019 Gold Coast Broadhectare study, the Gold Coast's land supply is limited to 80,307 dwellings. With the Gold Coast's population growth rising as we speak, it's predicted that land supply will be absorbed in the next 13 years. Because of this lack of land supply, land prices within the Gold Coast have risen 84% in the last 5 years. The Gold Coast's rapidly growing population base and declining land supply is a primary indication of the Gold Coast's long-term real estate market potential.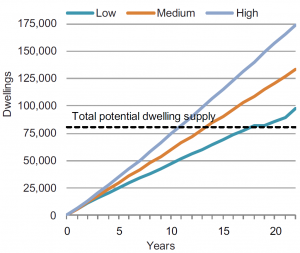 Source: QLD Government Gold Coast Broadhectare Study 2019
Arbour Residences: The best of Pimpama
Compared to the rest of the Gold Coast, Pimpama residences have a higher proportion of medium-to-high income earners, which is another core reason why Pimpama's real estate market has performed well in the past. From a fundamentals perspective, Pimpama's rental yield of 5.3% for houses and 5.1% for units and townhouses, along with its extremely low vacancy rate of 0.9% in July 2020, Pimpama is one of Australia's most exciting and promising suburbs.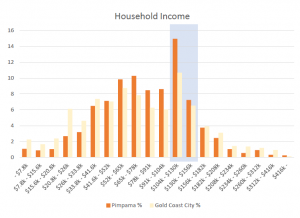 In light of Pimpama's rise in popularity and growth potential, Ironfish has identified a quality property recommendation for our investors – Arbour Residences. With positive cash flow 3-bedroom homes on offer for under $450,000 it's a unique opportunity to take part in.

If you would like to learn more about our offerings in Pimpama or just want to learn more about Pimpama and its surrounding growth and potential – Book a free appointment with one of our experienced strategists.