Posted on April 15th, 2022
Smart investing: Myth vs reality
How you can start building a portfolio on a $80,000 income
The power of the possibility mindset
Breaking down the top 4 wealth building myths
In our 15 years' experience helping people build long-term wealth through property investing, we've heard so many misconceptions about what you need to have or do to achieve success as an investor.
The truth is that no matter where you are in your life, the key to success starts with the right mindset. If your thinking is focused on limiting beliefs, your chances for success are slim. That's why successful property investors choose to adopt what we call 'possibility thinking'. Combined with a clear, goal-oriented strategy, it's a great technique that will help you build wealth faster and smarter.
So, what are the top 4 most common myths and mindsets about building wealth through property investing?
1. The Myth: All successful property investors have high-income jobs
The Mindset: "I don't earn enough money to invest in property"
While earning a high income certainly helps, it's not a deal breaker if you follow the right investment strategy.
Our signature Portfolio Building Strategy has helped investors on all income levels build a road map for their future, setting them on the path to achieving their financial dreams.
Here's a real example of how you can purchase a property worth $484,000 on an income of $80,000 per year – making you $155 per week or over $8000 in your first year.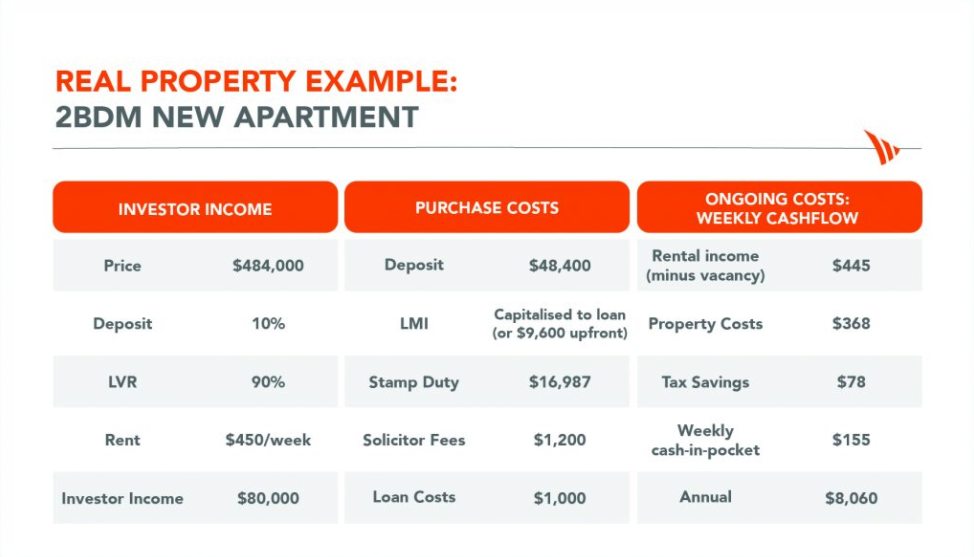 Assumptions: Interest-only loan at 2.79%, LMI capitalised to loan and is an estimate
2. The Myth: You have to sacrifice a lot of what you enjoy today in order to achieve wealth in the future
The Mindset:  "If I want a decent retirement, I won't be able to enjoy my life now"
We understand that everyone has different lifestyles, different dreams and different ideas on what they're willing to do to achieve their idea of financial freedom. When you partner with Ironfish, we take the time to get to know you on a more personal level, helping you set clear goals for your life now, and in the future. With our customised portfolio building strategy, you can actually enjoy your journey to success knowing we're supporting you with insights and opportunities along the way.
3. The Myth: We've left it too late to start
The Mindset: "We won't see rewards for a very long time, so why start now"
It's important to remember that's it not when you start, it's how you start. And with the right property investment strategy, there's no such as thing as "too late."
Take the case of Ryan and Caroline, two Ironfish customers who spent much of their 20s and early 30s travelling the world before they settled down and became small business owners. With a young family and very little superannuation, they believed it would be at least 2 years before they would be in a position to start their journey into real estate investing. But with support from Ironfish, they found themselves  buying into the market almost immediately.
4. The Myth: You need to have experience to be a property investor
The Mindset: "We've read so many different things about the property market, we're confused and don't know have enough confidence or knowledge to start"
It may surprise you to know that even the most successful property investors rarely venture into the property market by themselves and seek out companies like Ironfish to help them build a wealth-building portfolio.
We simplify the investing process, and whether you're a first-time investor or seasoned investor, we partner you with an experienced strategist, give you access to our collective expertise and provide you with long-term holistic support along your investment journey.
Discover the secrets to choosing the right investment strategy. Book a free consultation today.