Posted on June 9th, 2022
The must-have guide for first-time property investors
Property investors reveal their secret strategies for success
There's a reason why one quarter of the richest people in Australia make their money investing in property. Quite simply it works. And it continues to work year after year regardless of what's happening with the economy.
The other good news is that you don't have to have much (or any) experience to become a successful property investor. You just have to surround yourself with the right people and the right mindset. And that's where we come in.
Since 2006, the team at Ironfish has helped more than 10,000 customers change the course of their life as they take their first steps towards building real long-term wealth through strategic property investing. We're talking the kind of life-changing wealth that allows you work less, have more time to do the things you love and importantly, luxuriate in the freedom to live life on your terms.
5 reasons to get your foot in the property investing door
1. Someone else is helps pay your mortgage for you
The ability to earn a passive income is just one the big plusses of property investing. The moment you rent your investment property, the rent you receive from your tenant can go straight towards your mortgage repayments. Right now, Australia is in the grip of a rental crisis, so with the demand for quality rental properties at an all-time high, rents are on the increase. What that means for you is even more money in your pocket.
Success strategy: By using the extra income stream to pay down your mortgage and build equity in your first investment property, you can put together a deposit for another property and start to build a life-changing portfolio.
2. Increase your cashflow without lifting a finger
When you partner with Ironfish, you'll have access to the latest property market research that identifies the hottest locations and properties, growth forecasts for apartments and houses at any given time and other long-term opportunities that may be flying under the radar. We'll be right by your side helping you identify the right property in the right area, so you can expect the value of your investment to increase over time. This is what's known as capital growth, and it's a key driver for many successful property investors, as you can sit back and watch your investment grow.
Success strategy: When your property increases in value, you benefit from a gain known as equity. You can then refinance and reuse this equity to invest further and continue to growth your wealth
3. Pay less tax
Who doesn't love the sound of that? Come tax time, you'll soon discover just how many ways property investing can help minimise the tax you pay:
Claim depreciation (wear and tear) and put more money back in your pocket
Claim expenses on your property as a tax-deductible offset
If your rental income doesn't cover all your expenses, you can claim 'negative gearing', which means the 'loss' on paper can be claimed against your PAYG employment income. This reduces the overall amount of tax you pay.
If you have to sell your investment property, and you've held it for at least 12 months, you can receive a 50% discount on capital gains tax payable on the profit.
Success strategy: Smart investors only sell quality assets if they absolutely have to. We recommend holding onto your investment property for 10-15+ years so you enjoy greater capital growth and save on capital gains tax
4. Leverage the 'magic' of compounding to increase your return
Compounding was once described by Albert Einstein as the eighth wonder of the world because of the seemingly magical way it can supercharge investment growth.
Let's see just how this works in practice.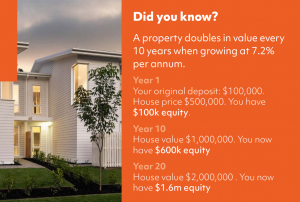 5. Enjoy peace of mind knowing you're on track to build long-term wealth
If you're at all risk averse, you may be hesitant to enter into any investment opportunity, even something as strategically sound as property. So it might give you peace of mind to know that unlike a lot of other investments which can be extremely volatile, when you buy an investment property you can rest easy knowing that it's almost certain to appreciate in value over the long term, building a steady path to long term wealth.
In order to maximise your chances of property investing success, we encourage our customers to focus on a variety of stable capital city markets, which have a track record of growth over many decades.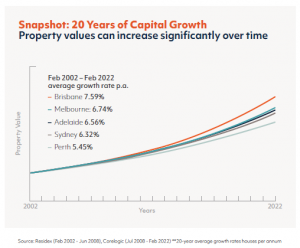 The information contained in this document has been collected by Ironfish from various public and private sources. This document is intended to provide Ironfish investors with some general information only and does not constitute an offer, contract or inducement to buy. Investors are expressly recommended to do their own due diligence in relation to any ultimate property