Posted on July 21st, 2022
Why 2022 is the year you should buy instead of rent
From renting to an owning investment property, now is the perfect time to get your foot in the door.
There's no doubt that the rising cost of living is having an impact on our back pockets, with many people tightening their belts and cutting back on discretionary spending such as eating out, luxury holidays and the like.
But what about those expenses we can't control such as paying for a roof over our heads? If you're renting right now, you're facing the very real prospect that your rent may increase considerably. Rent increases, already driven up by a massive shortage of accommodation to lease are only going to increase further as the effect of opening international borders is felt.
Think about all the rent you've been forking out week after week. What if you could be using that money to help build your wealth instead of making your landlord rich?
Buying an investment property anytime makes economic sense, but in 2022, there are three great reasons why now is the time to make the leap from renter to owner.
Lack of supply means landlords have more power than ever
Right now, every single city in Australia is in the grip of a rental crisis. With so many people looking for rental accommodation, and so little supply actually available to rent, landlords are in a prime position to cash in.
The below recent study of rental accommodation supply from 2019 to 2022 tells the story*. And when you consider that weekly rents are at the mercy of rental supply, and rents rarely (if ever) go down, it doesn't paint a very positive picture for renters.  It is however great news for people looking to jump on the property ladder.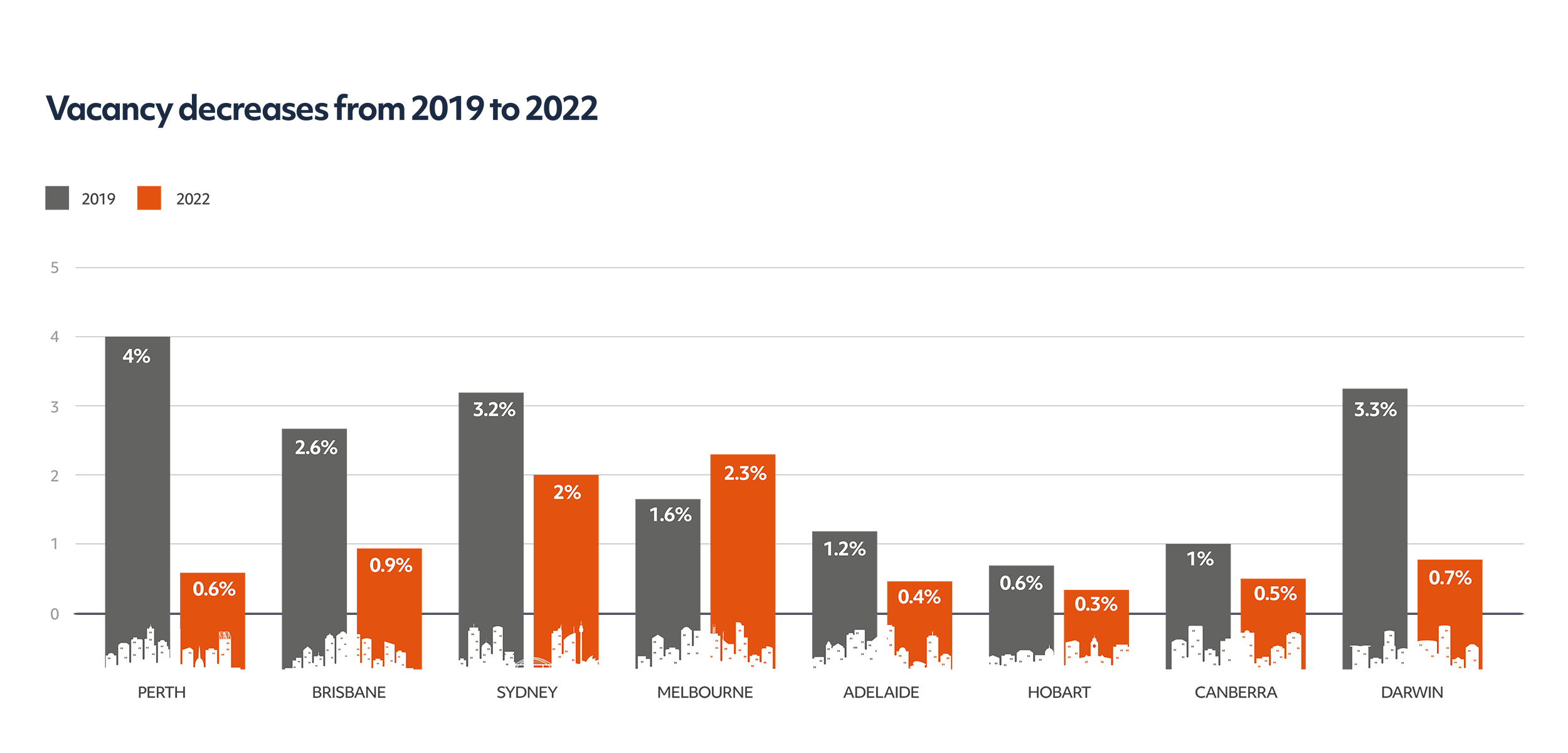 Investors or homeowners are spending less money than renters
With the rising cost of living, many of us are looking more closely at how our budget is spent. So it's interesting to note that those who own their own home actually spend less than 25% of their household income on housing costs, while those who rent spend more than 1/3 of their wages on housing costs/paying rent*.
Renters are essentially at the mercy of landlords, who are taking advantage of the shortage in accommodation open to lease (and rightfully so!)  So if you didn't think you could afford to become a homeowner, now's the time to think again.
A huge opportunity to turn renters into investors/homeowners and help alleviate the rental crisis has presented itself.  With the building of residential developments across Australia recommencing after the worldwide 'pandemic pause', and the normalisation of supply chain on the horizon, it's the perfect time to invest into newly built housing and help provide accommodation of the millions of Australians queuing to rent.
More help to buy than ever before
If you're still on the fence about taking the leap from renter to owner and capitalising on the market rental demand, the newly introduced 'Help to Buy' scheme should help you seal the deal.
As of July 2022, the Australian Government has set in motion a brand-new policy that allows buyers to enter the market with smaller deposits.* While most buyers with low deposits would normally get hit with high borrowing costs and lenders mortgage insurance premiums, under the Help to Buy scheme you can avoid both and save a bundle in the process.
If ever there was a perfect time to secure your financial future through property investing, this is it. Talk to one of our experts today about the art of strategic property investing in the perfect climate.
*Source: www.matusik.com.au
**Source: www.nsw.gov.au