Posted on March 25th, 2022
Why 4 is a property investor's magic number
How our signature portfolio approach can help you secure 4 investment properties in 6 years
The great retirement myth: why one investment property is not enough
The pitfalls of DIY property investing
Strategy and planning key to securing 4 properties in 6 years
No matter what the economic climate, we've seen over and again that property is a great investment option for building wealth for the future. Yet surprisingly, nine out of 10 Australian families are yet to take the leap into property investment.
So if you're the proud owner of one investment property, congratulations. You've joined a staggeringly small 8% of Australian property investors who've taken that all-important first step into property investing.
Here's the not-so-great news.  As most owners of one investment property soon discover, this passive income stream is usually not enough to retire on. Successful property investing is a steep learning curve, and if you're going it alone and failing to follow a portfolio building strategy, chances are you'll be one of the many people who become disillusioned, giving up or even selling at the wrong time.
We don't want you to be one of those people.
And here's how we can help make your dreams of building long-term wealth a reality.
The '4 investment properties in 6 years' strategy to success
As any successful property investor will tell you, no matter what your income level, to achieve real long-term wealth – the type of wealth that sees you retiring early or living a retirement lifestyle way beyond your expectations, you need a strategy to build a portfolio of at least 4+ properties.
To succeed as an investor, it's important to approach the process with a sound strategy and a 'numbers' mindset that works towards achieving your end goal.
Let's say your goal is to earn around $90,000 pa on your properties (as of February 2022, the ABS reports the average income in Australia is $90,896).
Assuming a 5% rental yield at 2.5% inflation, to achieve this you will need a future net portfolio value of $2,605,778*.
This may seem unachievable, but by buying 4 properties over a 6 year period and holding them for approx 15 years to double in value, you can achieve this. If you are prepared to hold for 20 years then you can target even more affordable properties.
Here's how many of our customers have used this strategic formula to achieve just that. As you can see, between 15-20 years, you would achieve the goal of $2.6m in equity.
Accumulate multiple affordable properties with wider rental appeal to reduce vacancy rates and achieve strong yields
Build a rent-resilient portfolio with a mix of property types
Take advantage of evolving market cycles and stay under state land tax thresholds by buying in different cities
Reap the rewards of a long-term mindset by holding your properties for at least 15 years
And the 5th (most important) step to success
Success in property investment is extremely difficult to achieve entirely on your own, and yet so many people dive in with no experience and more importantly, no clear strategy of what they want to achieve, both in monetary and lifestyle terms.
Young couple Patricia & Alex are a prime example of the perils of going it alone. While they had all the enthusiasm in the world, their lack of knowledge, experience and confidence resulted in 9 stressful months of searching. A chance meeting with Ironfish completely changed the game and accelerated their investment journey to the point where in addition to securing their first property investment in Brisbane, they now have a house and land package and two properties awaiting settlement.
4 properties in less than 6 years.
Far more than just a numbers game, successful property investing means also adopting a strategic mindset, which is why partnering with Ironfish has worked for so many of our customers like Patricia and Alex.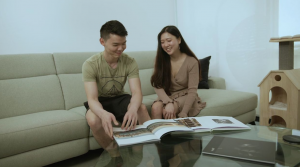 We're in this together with you, and we're in it for the long term.
Ready to set yourself up for property investing success? Book a free consultation today.
*The portfolio requirement scenario is hypothetical and uses several assumptions. The "Future Portfolio Value Required" calculation assumes a 5% gross return, 2.5% inflation and does not take into account holding costs or tax liabilities (which will vary according to individual circumstances).
Please note, the information in this blog, including portfolio scenarios illustrate general concepts only. Ironfish accepts no responsibility for information accuracy. Investors are encouraged to seek independent guidance regarding which investments are appropriate for their situation.